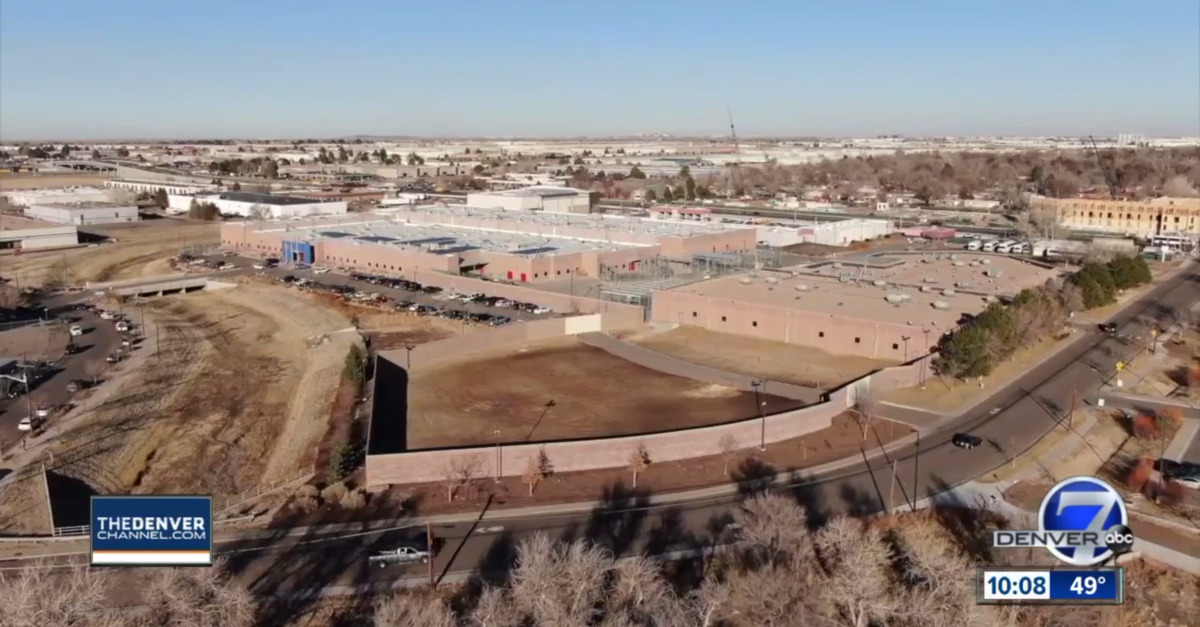 A new private detention facility used by Immigration and Customs Enforcement (ICE) is currently operating without a license and should be shut down, per immigration attorneys with knowledge of the matter.
According to local ABC affiliate Denver 7, ICE's Denver Contract Detention Facility–which is actually located in Aurora, Colorado–is currently operated by private prison company Geo Group, which also has a separate detention facility in the city. The older detention facility is larger and contains some 1,100 beds. Geo Group's newer facility, which opened in January, contains an additional 400 beds.
But advocates say Geo Group never even applied for a second license to operate their new detention center.
"Geo intentionally and very consciously said we don't want a license at East 30th Avenue," said Danielle Jefferis, a clinical fellow and the supervising attorney at the University of Denver Sturm College of Law Civil Rights Clinic. Jefferis is also counsel for Novo Legal–a major immigration law firm in Denver.
"They're telling their shareholders that this additional bed space in Aurora is a reason to be confident in the profits that they're going to accrue in 2019," Jefferis told the outlet.
Under municipal law in Denver County, a business must apply for and receive a general business license. The last license for the property in question was awarded to a transportation company, according to the law firm.
"I think this issue raises [other] questions, though, of whether they're complying with other local requirements and state law," Jefferis told Law&Crime.
The licensing issue is perhaps emblematic of other concerns with the facility in general.
"First of all their food is atrocious they found worms in their food in there," immigration rights activist Priscilla Cruz-Moreno told Denver7.
In September, Cruz-Moreno's husband of 20 years, Harry Cruz-Moreno, was detained by ICE agents. She's currently fighting to stop his deportation to Honduras and told the outlet that he's been quarantined on several occasions due to measles and chicken pox outbreaks because ICE and Geo Group's attention to or concern for sanitation issues is severely lacking.
"So there's no visits, we can't talk by phone, for Valentine's we tried to video," Cruz-Moreno said. "We thought he was being deported today and it would be the last time that I would see him."
Jefferis outlined a series of other important concerns with ICE's latest addition to their network of publicly-subsidized, privately-profitable detention centers.
"The new space reportedly does not have any phones for detainees to use to call their attorneys and families," she said in an interview with Law&Crime. "We also believe it does not have its own medical unit or food prep space, so medications and items are being transported into the facility from another location."
Transportation of such necessities raises myriad health and safety concerns.
According to Denver7, Geo Group has ignored all requests regarding their business permits–as well as similar requests for proof of health and safety inspections. The outlet also noted that their new facility has been plagued by health and safety complaints since it opened earlier this year.
And, for now at least, advocates want the center shut down.
"In the immediate what we are doing is calling on the city of Aurora to shut this space down," Jefferis said. "If we are not convinced that there are adequate safety measures in place, that it is being regulated, that it is being held accountable. We can't ensure the detainees inside and their families that they are safe."
Law&Crime reached out to a Geo Group manager for the Aurora facility, but no response was forthcoming at the time of publication.
[image via screengrab/Denver7]
Have a tip we should know? [email protected]