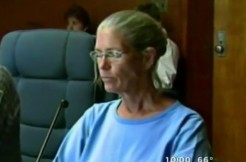 On Thursday, a California parole board recommended that Manson Family member Leslie Van Houten be freed after almost 47 years behind bars. She's apparently been a model prisoner, but her potential freedom would come with enormous controversy.
She was convicted in 1971 in the homicides of Leno and Rosemary LaBianca, and for conspiring to murder Abigail Folger, Wojciech Frykowski, Steven Parent, Sharon Tate Polanski, and Thomas Jay Sebring.
Van Houten has regularly expressed regret for the killings (including in a 1994 interview with ABC's Diane Sawyer), and her behavior in prison has led to her regularly being described as the only Manson "family" member who could ever be released. In fact, the parole board highlighted that she hasn't had a serious rule violation in almost 50 years.
"They called her an exemplary prisoner where she's helped the other inmates," her attorney Richard Pfeiffer told GMA in a Friday report. "She's tutored them. She herself is under a master's degree in the last two years."
That's not enough for the Los Angeles District Attorney and the daughter of Leno and Rosemary LaBianca. They have said Van Houten should never be paroled.
LawNewz founder and ABC News Chief Legal Affairs Anchor Dan Abrams said on Good Morning America that it's possible she'll leave prison, but far from a certainty. He cited her reportedly good behavior, and actions in taking responsibility for the killings. But Van Houten's plea for freedom still has to be okayed  by California Governor Jerry Brown who previously rejected the parole board's recommendation for another Manson family member, Bruce Davis, to be paroled.
While Abrams pointed out that legally she has checked off every guideline for parole,  it could still be problematic for Brown to sign off on it: "As a political matter, how can it help the governor to free a Manson follower?"
Charles Manson started a cult in California in the late 1970s, bringing many mostly young female followers under his banner. In a 1969, Manson plotted the murders of several prominent Californians, and had his people carry this out. Van Houten was the youngest of those convicted, which has also been cited as a reason to consider her release.
"I don't let myself off the hook," Van Houten said at Thursday's parole hearing, "I don't find parts in any of this that makes me feel the slightest bit good about myself.
She's been denied parole 19 times.
[screengrab via CBS]
–
Follow Alberto Luperon on Twitter (@Alberto Luperon)
Have a tip we should know? [email protected]