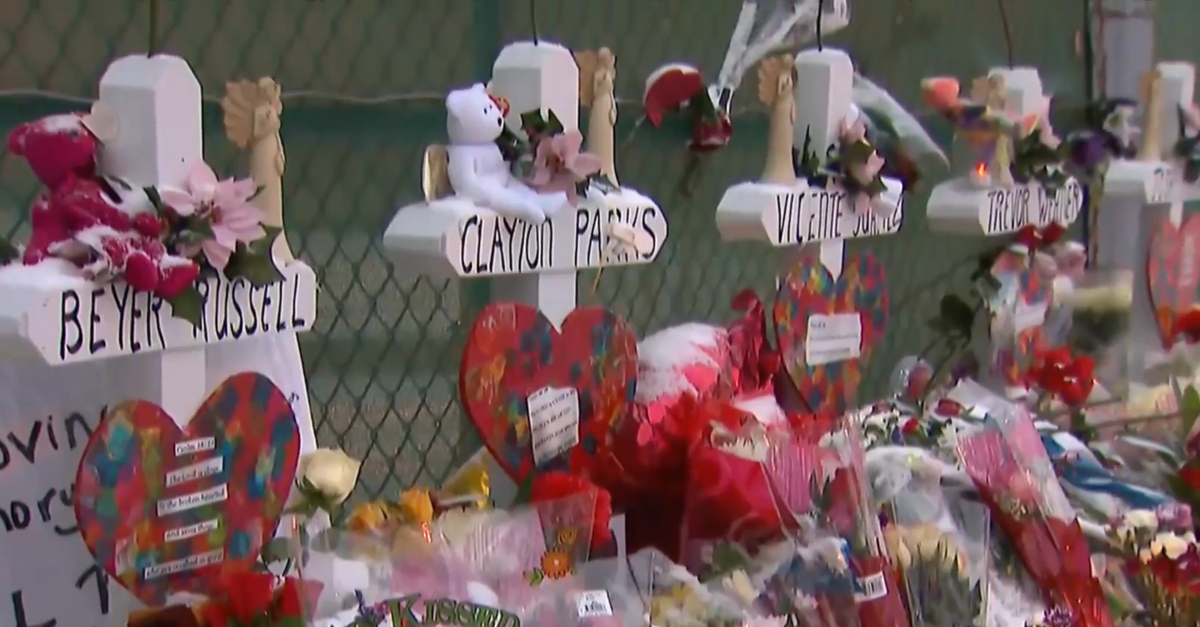 Josh Pinkard, 37, was one of the victims in a mass shooting in Aurora, Illinois on Friday, but before Pinkard died he was able to tell his wife that he loved her one last time.
"I received a text at 1:24 from my precious husband that said I love you, I've been shot at work," wife Terra Pinkard wrote in a statement to Facebook on Sunday. "It took me several times reading it for it to hit me that it was for real."
The MSU family mourns the loss of our beloved industrial engineering alum, Josh Pinkard, who was killed on Friday in the Aurora, Ill. shooting. Pinkard was the plant manager at Henry Pratt Co., a husband, father, and an enthusiastic fan of Bulldogs sports. pic.twitter.com/opYlUZS0xM

— Mississippi State (@msstate) February 18, 2019
Pinkard was a plant manager at the Henry Pratt Company, according to USA Today. That's where co-worker Gary Martin murdered him and four other employees, police said. The suspect died in a shootout with cops, Aurora Police Chief Kristen Ziman said during a Friday press conference.
In her Sunday post, Terra Pinkard called her husband "brilliant."
"The smartest person I've ever met!" she wrote. "My best friend! The man I would have leaned on during devastation like this who would tell me it's ok Terra, it is all going to be fine. The man who was dying and found the clarity of mind for just a second to send me one last text to let me know he would always love me. This unbelievable person was robbed from us."
The other victims were identified as 47-year-old Russell Beyer, 54-year-old Vicente Juarez, 32-year-old Clayton Parks, and 21-year-old Trevor Wehner, a college student who at the facility working his first day as an intern for the company.
Heartbreaking. Just interviewed Trevor Wehner's brother. It was Trevor's first day at Henry Pratt as an HR intern. He was 21. A full life ahead of him. His brother tells me he was known as "the guy who made you laugh." @nbcchicago pic.twitter.com/6Dhm8XSU7W

— Chris Hush (@ChrisHushNBC) February 16, 2019
#AuroraShooting victim Vincente Juarez was devoted to his job at Henry Pratt. His daughter, Diana, told me he had an outstanding work ethic. He also, as this photo shows, knew how to have fun. (Vincente is wearing the black hat.) pic.twitter.com/d34oAKB8nv

— Aamer Madhani (@AamerISmad) February 16, 2019
Russell Beyer, 47, of Yorkville, was a mold operator and union chairman.
"Russ had helped [Martin] keep his job on several occasions but was unable to do so again. Russ was a very vocal and proud union man and he regularly represented his fellow union workers," per his GoFundMe pic.twitter.com/Flh5xzmb0h

— Megan Jones (@MeganA_Jones) February 17, 2019
Clayton Parks, a human resources manager, was an alumnus of Northern Illinois University who graduated from its college of business in 2014, the university president says. https://t.co/5AhDTctsbp (5/6) pic.twitter.com/834ysNnJi4

— NBC News (@NBCNews) February 18, 2019
Five police officers were shot during the incident and a sixth suffered a knee injury, Ziman said.
Aurora officials have started a GoFundMe campaign for the victims who lost their lives and their families. Other GoFundMe pages were started for Beyer and Juarez.
Investigators claim that Martin, who worked for the company for 15 years, brought a gun to a meeting where he was going to be fired, according to CBS 46. Martin was supposed to turn in the firearm after a 2014 background check for a concealed-carry permit revealed he was previously convicted for felony aggravated assault in 1995, according to the news outlet. Prosecutors in that old case said he beat an ex-girlfriend with a baseball bat and also stabbed her.
[Screengrab via NBC]
Have a tip we should know? [email protected]