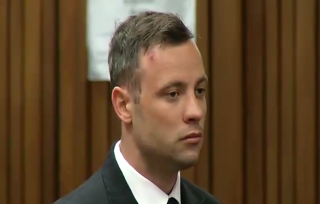 The sentencing of Oscar Pistorius, the Olympic sprinter and double amputee who murdered his girlfriend, Reeva Steenkamp in 2013, continues on Wednesday, the third day of the sentencing hearing. Closing arguments expected later in the day.
Watch the sentencing live here, courtesy of eNCA:

Steenkamp's cousin has already testified at the hearing on Wednesday, saying Pistorius has never apologized for the killing that has forever changed her family, CNN reported. She said Pistorius kept changing his story of what happened the night he shot her cousin. "All we've ever wanted was the truth."
Pistorius was originally convicted of manslaughter for shooting Steenkamp, but the South Africa Supreme Court upgraded it to murder in 2015. He faces a minimum of 15 years in prison, but his attorneys are arguing that he is mentally ill and they recommend that he be hospitalized instead.
Have a tip we should know? [email protected]