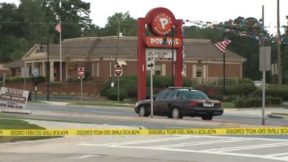 The suspect in a hostage situation that took place at a bank in Cobb County, Georgia was killed by police after a stand-off that lasted more than four hours. Police Chief Michael Register said at least two people were being held at the Wells Fargo branch, and that the suspect—whose name is not being released—claimed to have a bomb.
Police received a report of the situation at around 9:30 ET Friday morning, and killed him before 2:00 pm. A SWAT team freed the hostages, who 11Alive reported were believed to be employees at the bank.
Chief Register told the local outlet that authorities were inspecting the building for explosive devices, and searching a backpack left behind by the suspect, who he said has a military background.
Have a tip we should know? [email protected]