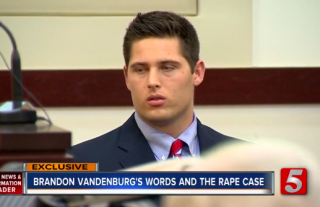 The retrial for the former Vanderbilt University football Brandon Vandenburg enters day 3. Vandenburg is charged with five counts of aggravated rape, two counts of aggravated sexual battery and unlawful photography.  While he did not physically participate in the 2013 alleged rape of an unconscious woman, prosecutors believe he encouraged it, and should be held responsible for what happened in the dorm room.
On Tuesday, jurors heard an audio recording of an interview a detective conducted with Vandenburg prior to his arrest. In that conversation, Vandenburg said he was with the woman on the night in question, and that the other three men happened to be there when they got back to the dorm. He also said he brought the woman to his room and put her to bed because he didn't know what else to do
Jury selection took place in Memphis, Tennessee because the judge was concerned the intense media coverage could taint the jury. Jurors were bused to Nashville for the trial. Vandenburg was found guilty last year but a judge declared a mistrial after it was discovered a juror revealed he had lied about being a victim of an assault.
To Watch the Trial Live Click Here via News Channel 5
Stay with LawNewz.com for legal analysis on this case, and all the latest developments.
Have a tip we should know? [email protected]
Rachel Stockman - President / On Air Host