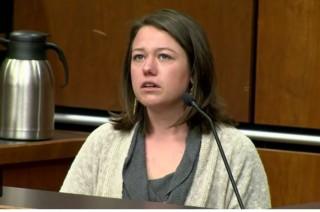 A Colorado woman who was stabbed and had her baby cut from her womb took the stand to deliver emotional testimony describing what happened.
Dynel Lane is facing charges for attempted murder and unlawful termination of a pregnancy. Investigators believe she attacked 27-year-old Michelle Wilkins in March 2015.
Investigators say that Wilkins responded to an online ad for baby clothes and went to Lane's apartment when she was attacked, according to Fox 31 Denver. Investigators say Lane had a bizarre fascination with pregnancy. During opening arguments, Lane's attorneys admit she did the acts but say it wasn't intended.
"I remember when she stabbed me, she removed it and she continued to try to choke me," Wilkins said in court.  Prosecutors say that Lane had been faking a pregnancy for over a year.
"I kept saying, why, why are you doing this, and she said if you love me, you will let me do this," Wilkins said. She also said that Lane broke a bottle over her head.
"I felt like I wanted to survive [for her baby], so I fought back harder," Wilkins said. According to the television station, prosecutors say Lane spent over an hour cleaning up before going to the hospital with the baby  waswho still born.
Lane is currently in custody on a $2 million bond.
See video below of Wilkin's testimony from KUSA:

Have a tip we should know? [email protected]
Rachel Stockman - President / On Air Host