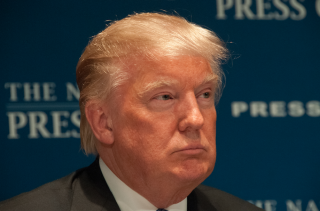 Today, Vice News announced that they have filed a Freedom of Information Act lawsuit to force the IRS to turn over all audits of Donald Trump's tax returns from 2002 to the present. Trump has said repeatedly that he would love to turn over his taxes, but can't because they are under audit. Now, the news organization is trying to figure out if he's telling the truth.  Vice News says in the complaint that they were forced to file the lawsuit after the IRS failed to respond to their FOIA requests.
In the suit, filed jointly with Ryan Shapiro, a doctoral candidate at MIT and research affiliate at the Berkman Klein Center for Internet & Society at Harvard University, we asked the IRS for "any and all requests by law enforcement agencies for copies of… Trump's individual tax returns" and "any and all records mentioning or referring to requests by law enforcement agencies for copies of individual tax returns."
Several news organizations have raised questions as to whether Trump is really under audit by the IRS. Earlier this year, Trump released a letter from his attorneys  which says, "your personal tax returns have been under continuous examination by the Internal Revenue Service since 2002, consistent with the IRS's practice for large and complex businesses."
However, many, including LawNewz, have questioned why he hasn't released his audit letter which usually informs individuals that their returns are being scrutinized.  There is nothing preventing him from releasing that. Audits are usually not available to the public due to privacy reasons under federal law. It is doubtful that the agency will turn over the audits. However, the Department of Treasury's response to the lawsuit could give some insight into the nature of Trump's alleged audits.
Vice News has also named the FBI in the FOIA lawsuit because they are seeking to gain access to documents connected to comments Trump made on the campaign trail.
Have a tip we should know? [email protected]
Rachel Stockman - President / On Air Host