Podcast: Play in new window | Download
Subscribe: RSS
The valedictorian at a Texas high school had a 4.5 GPA, earning herself a full college scholarship. While working hard for four years to achieve that, she kept a secret.  Mayte Lara Ibarra of Austin revealed herself on Twitter after speaking at graduation, saying that she is an undocumented alien, the Washington Post reported. A screenshot of her tweet (she has since deactivated her account) shows her boasting her accomplishments while letting the world know what she kept hidden for so long.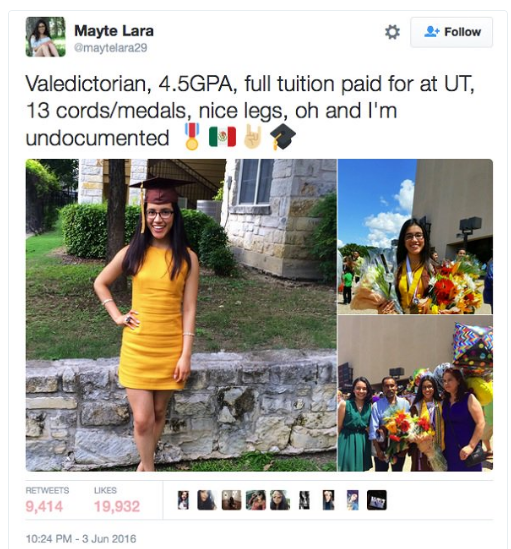 Her tweet sparked an explosion of responses, both positive and negative. Many praised her achievements, as well as her bravery.
@maytelara29 congratulations! You are the definition of it doesn't matter who you are or where you came from, anything is possible!

— Pedro gonzalez™✞☯ (@gpedro176) June 4, 2016
We are a nation built from immigrants. I'm proud of you. Keep being a role model for your fellow Hispanics. I'm with you #MayteLara #latino

— Desmond Tudor (@desmond_tudor) June 9, 2016
But others don't care about her academic credentials, focusing solely on her immigration status.
@maytelara29 Congrats on your accomplishment. After we deport you, perhaps you can return in a way that doesn't make you a criminal.

— Wolf-Alpha Project (@WolfAlphaProjct) June 4, 2016
Mayte Lara should be deported immediately for her flaunting her law breaking. We are a nation of laws. immigrate legally #BuildThatWall

— Nick (@TheNick_463) June 7, 2016
And still others went so far as to threaten to report her to U.S. Immigration right away.
@maytelara29 I just hired a PI to track you down and have charges filed against you with ICE. it was worth it.

— Dana P. Dutcher (@danapdutcher) June 7, 2016
@maytelara29 I did it legally, nobody should get a short cut. pic.twitter.com/UZC5ipnqNY

— Cool Arrow (@cuervo_jones) June 5, 2016
Clearly not expecting the reaction she got, Ibarra deleted her Twitter account and told KVUE that she lied about being undocumented. She later told the Statesman that she did indeed come to the country as an undocumented alien, but now has DACA (Deferred Action for Childhood Arrivals) status, which allows her to be here legally. "I do pay taxes, have a DACA which allows me to work and study here, and I have a social security number," she explained.
Ibarra is 17 and has lived in this country for 15 years, she told the Statesman. She said her tweet was only meant to show pride in her accomplishments and support others who have to overcome odds. "I just wanted to show that no matter what barriers you have in front of you, you can still succeed," she said.
Have a tip we should know? [email protected]