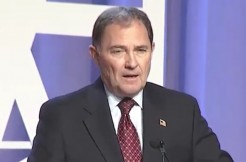 Utah just declared porn a public health crisis. Gov. Gary Herbert signed a resolution on Tuesday at a ceremony in Salt Lake City. The resolution called porn an "epidemic that is harming the citizens of Utah and the nation," leading to addiction, child abuse, and other problems.
"This isn't just a religious moral issue," said Republican state Sen. Todd Weiler, according to CBS. "Some people want to make this about sex education. No boy or girl needs to see those images to learn how families are created."
Weiler also said state and federal law should make internet service providers default to porn-free settings for consumers, according to KSL. That means customers would have to sign up for porn.
Sponsor: I was "mocked and scorned" by media when pornography as health crisis resolution introduced @KSL5TV #utpol pic.twitter.com/kk2TJKj5VW

— Ladd Egan (@laddegan) April 19, 2016
The resolution's full text can be read here.
Utah has been trying to squash pornography for a while. In 2013, the legislature passed a resolution sponsored by Weiler saying "soft-core porn"—described as sexualized imagery in the advertising and the media—hindered brain development in children. The state instituted an actual "porn czar" position back in 2001—technically called the Obscenity and Pornography Complaints Ombudsman.
A 2009 study by a Harvard Business School professor found that the state had the highest rate of Internet porn consumption in the country.
[screengrab via Utah Global Forum]
–
Follow Alberto Luperon on Twitter (@Alberto Luperon)
Have a tip we should know? [email protected]