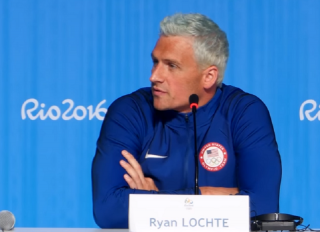 U.S. Olympic swimmers Jack Conger and Gunnar Bentz were taken off their flight from Brazil back to the U.S. on Wednesday, so that authorities could question them about the alleged robbery that they and their teammates said took place early Sunday morning. James Feigen and Ryan Lochte had claimed to be have been robbed alongside them. ABC News reported that Lochte is already back in the U.S., according to officials, but Feigen was still in Brazil as of Wednesday, and a judge ordered that his passport be seized.
Conger and Bentz reportedly spoke to Brazilian officials after being removed from the plane, and were then released.
U.S. Olympic Committee spokesman Patrick Sandusky confirmed that Conger and Bentz "were detained Wednesday night shortly before their flight was scheduled to depart from Rio." He said, "They were released by local authorities with the understanding that they would continue their discussions about the incident on Thursday."
As far as Feigen, Sandusky stated, "James Feigen is also communicating with local authorities and intends to make further statements regarding the incident on Thursday as well."
U.S. State Department spokesman John Kirby said in a statement that the U.S. "will provide all appropriate consular assistance" to the swimmers.
U.S. State Dept. issues statement following reports of two U.S. swimmers 'detained' in Rio. https://t.co/TbMFDlI8IQ pic.twitter.com/2aBUdtQK9Z

— ABC News (@ABC) August 18, 2016
The Associated Press reported that U.S. consulate representatives went to the airport after Bentz and Conger were detained.
Bentz and Conger are currently being represented by Brazilian attorney Sergio Riera, who told reporters in Portuguese, "They didn't understand why they couldn't board the plane," and, "They were very scared. It's confusing because the police chief is saying one thing, and the judge is saying something else." Riera said both Bentz and Conger "are ready to cooperate with the police chief."
The investigation took a sharp turn amid reports that Lochte and Feigen had given contradictory reports about the incident when they spoke to police. According to NBC, they had given different stories regarding the number of perpetrators who were involved in the alleged robbery.
Have a tip we should know? [email protected]