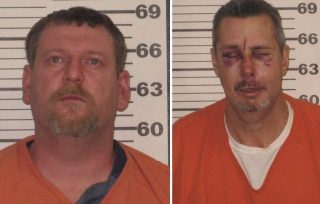 Two suspects were apprehended for allegedly stabbing a man at a meeting of the Ku Klux Klan at one of their homes, authorities say. According to the Caswell County Sheriff's Office, Richard Dillon was at the North Carolina home of Christopher Barker for the meeting on Saturday, when Barker and William Hagen allegedly stabbed him repeatedly.
Dillon told officers that he and the other men got into an altercation, when he was stabbed in the chest multiple times.
The Daily Mail reported that Barker has previously identified as the "imperial wizard" of the Loyal White Knights of the KKK. The group had reportedly announced they were holding a Donald Trump "victory parade" Saturday morning. The KKK was not at the parade, which drew dozens of protesters. The stabbing allegedly took place later that day.
Hagen was charged with one felony count of  "Assault with a Deadly Weapon with Intent to Kill Inflicting Serious Injury. Barker was charged with one felony count of aiding and abetting Hagen's assault. Hagen is in custody on $350,000 bond, and Barker is in on $200,000 bond. They are both expected to appear in Caswell County District Court on December 7.
Have a tip we should know? [email protected]