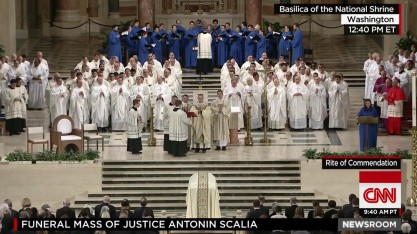 Thousands of mourners gathered at the nation's largest Catholic church on Saturday to pay respects to the late Supreme Court Justice Antonin Scalia who passed away last weekend while on a hunting trip in West Texas.
Justice Scalia's casket arrived at the Basilica of the National Shrine of the Immaculate Conception in Washington D.C. accompanied by his family, including his nine children and 36 grandchildren, on Saturday morning.  The Catholic funeral Mass was celebrated (led) by Justice Scalia's son, Rev. Paul D. Scalia, a Catholic priest in the Arlington, VA diocese.
The service began with a few brief opening remarks by Cardinal Donald Wuerl, Archbishop of Washington, who recognized a few of the distinguished guests in attendance, including Chief Justice John Roberts and the other Justices of the Supreme Court, Vice President Joe Biden, former Vice President Dick Cheney and former Speaker of the House, Newt Gingrich.  President Obama did not attend the funeral.
As part of the Mass, Justice Clarence Thomas, known for his silence in the courtroom, read a traditional Catholic funeral Mass scripture from the New Testament, Romans 5:5-11, for the Second Reading.
After thanking everyone for their thoughts and prayers over his family's loss, Rev. Paul Scalia began his homily (sermon) with the story of man that, at first, many likely presumed was his father.
"We are gathered here because of one man, a man known personally to many of us, known only by reputation to many more; a man loved by many, scorned by others; a man known for great controversy and for great compassion," Rev. Scalia said.
After a brief pause, Rev. Scalia continued, "That man, of course, is Jesus of Nazareth."
In the remainder of his homily, Rev. Scalia focused on his father's deep devotion to his family and to the Catholic Church.
After noting how over the past week many people have recounted what Justice Scalia did for them, Rev. Scalia told the assembled mourners that today they should reflect on what God did for Justice Scalia, and how he blessed him.
"We give thanks that Jesus bestowed upon him 55 years of marriage, to the woman he loved.  A woman who could match him at every step and even hold him accountable," Rev. Scalia said to light chuckles from the audience.
In another lighthearted moment, after speaking about his father's love of the Catholic Church's teachings and history and his trust in the sacraments as a means of salvation, Rev. Scalia told a story about a time when his father scolded him when they ran into each other during confession.
"The issue that evening was not that I was hearing confessions, but that he had found himself in my confessional line," Rev. Scalia said to laughter from the funeral Mass attendees.  Rev. Scalia told the mourners that once his father realized it was his son on the other side of the confessional box, he quickly departed, saying, "Like heck I'm confessing to you."
Rev. Scalia described his father as "practicing Catholic… in the sense that he hadn't perfected [his faith] yet."  He also asked for prayers to help free his father from encumbrance of sin.  Rev. Scalia tied this into why his father did not want a eulogy, explaining that his father believed the eulogy —which generally highlights one's good deeds and virtues — causes people to forget that, more than anything, the deceased needs prayers asking for forgiveness for their sins.
The funeral Mass marks the second day of public mourning for Justice Scalia's death.  Yesterday, he lied in repose in the Great Hall of the Supreme Court building.  Immediately after the funeral his casket was taken to an undisclosed cemetery for a private burial service.
A separate memorial service for Justice Scalia will be held on March 1st at the Mayflower Hotel in Washington D.C., the family announced on Saturday.
[image via CNN screengrab]
Have a tip we should know? [email protected]