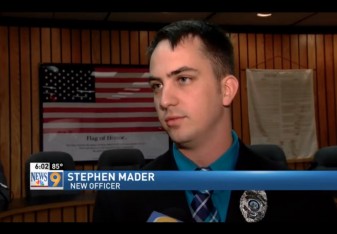 A West Virginia police officer who says he was fired over his involvement in a controversial police shooting that took place earlier this year is speaking out for the first time.  What this officer has to say, especially the reason he says the department gave for terminating his job, will blow your mind. And, it also proves that cops can't win.  Basically, officer Stephen Mader says he got fired for refusing to shoot a suspect.  Let's explain.
In a recent interview with the Pittsburgh Post-Gazette, officer Stephen Mader recounts how he arrived on scene of a reported domestic disturbance back on May 6.  Suddenly, he found himself confronting a man, later identified as Ronald D. "R.J." Williams Jr., 23, holding a gun.  Mader says he tried to encourage Williams to put the weapon down, but the man refused to comply with his orders.
Here is how the newspaper described the scene:
"I told him, 'Put down the gun,' and he's like, 'Just shoot me.' And I told him, 'I'm not going to shoot you brother.' Then he starts flicking his wrist to get me to react to it.

"I thought I was going to be able to talk to him and deescalate it. I knew it was a "suicide-by-cop" situation.
Mader says he refused to take the gunman's bait.  However, just then, two additional officers arrived on scene and Williams reportedly walked right towards the two officers while waiving his weapon.  Before Mader could explain the situation, one of the other officers fired a shot that killed Williams.  And get this, it later turns out the gun Williams was carrying was unloaded.
Two weeks after the shooting, Mader says he returned to work but was immediately called into the Chief's office.  According to Mader the Chief told him, "We're putting you on administrative leave and we're going to do an investigation to see if you are going to be an officer here. You put two other officers in danger."
Mader says he briefly tried to explain himself, but the Chief's mind seemed made up.  A few weeks later Mader says he received his termination letter and it noted that he "failed to eliminate a threat."
The other two officers were later cleared of any wrongdoing in the shooting, a decision that Mader thinks was correct.
"They did not have the information I did," Mader told the newspaper. "They don't know anything I heard. All they know is [Williams] is waving a gun at them. It's a shame it happened the way it did, but, I don't think they did anything wrong."
The employment status of the two other officers involved in the incident is unclear.  City officials and the police chief declined the newspaper's request for comment.
An attorney for Williams' family also spoke with the newspaper and said Mader's story provides "pretty clear evidence of [the department's] policy and that the way they feel [the shooting of Williams] should have been handled. Not only do they think he should have been shot and killed, but shot and killed more quickly."
This is an opinion piece. The views expressed in this article are those of just the author.