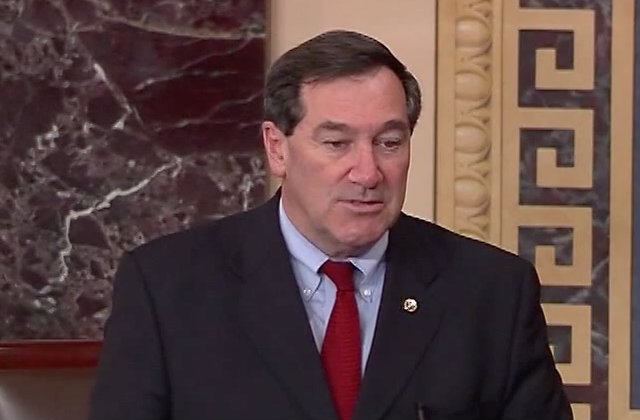 Practically speaking, Neil Gorsuch needs 60 votes to become the next Supreme Court justice, and he's now one closer to that mark. Indiana's Sen. Joe Donnelly says he'll vote on this federal appellate judge's behalf.
Joe will support the nomination of Judge Neil Gorsuch to the Supreme Court. https://t.co/1XmDlOBc40 pic.twitter.com/xOmuVlKaOX

— Senator Joe Donnelly (@SenDonnelly) April 2, 2017
"After meeting with Judge Gorsuch, conducting a thorough review of his record, and closely following his hearing before the Senate Judiciary Committee, I believe that he is a qualified jurist who will base his decisions on his understanding of the law and is well-respected among his peers," Donnelly wrote on Sunday.
Gorsuch, who currently serves on the Tenth Circuit Court of Appeals, fared well in his confirmation hearing in March. Despite getting challenged on some controversial statements, including an allegedly hard-hearted ruling, the press was mostly positive. This didn't change the mind of Senate Minority Leader Chuck Schumer's mind. The New Yorker said Dems will filibuster the nomination. This sparked a face off along party lines. Republicans seemed geared to unanimously back Gorsuch. Most Dems are opposing him or withholding their decision for now. For example, Virginia Democrat and former VP candidate Tim Kaine claims a Gorsuch would harm women's reproductive rights.
But then there are the three exceptions. With Sunday's announcement, Donnelly joins West Virginia's Joe Manchin and North Dakota's Heidi Heitkamp as Dems who back Gorsuch. Incidentally, all three belong to states that President Donald Trump won in the 2016 election.
By and large, though, Dems are motivated by how the Republicans treated Merrick Garland. In March 2016, then-President Barack Obama tapped the D.C. Circuit appellate judge to replace Antonin Scalia. But Senate Majority Leader Mitch McConnell, backed by and large by the GOP, simply did not move on a confirmation hearing, obstensibly so the next Supreme Court pick would better reflect the will of the populace.
As things remain, Schumer's filibuster threat remains viable. The 52 Republicans are more than enough to confirm Gorsuch, but that will change if Dems stall the process to keep this from getting an actual vote. In that case, 60 votes will be needed to invoke cloture and therefore place time limits on the debate. But for that to work, more Dems will need to jump to the other side, or passively allow Gorsuch's confirmation.
McConnell, who has promised the Senate will confirm Gorsuch in the upcoming week, has threatened to implement the so-called "nuclear option" if Dems successfully filibuster. This would change the rules so such a tactic would no longer be possible for Supreme Court justices. It's quite a dare since this means the GOP would lose this option too, should they ever return to being the minority party.
Donnelly, for his part, said he doesn't want to see the filibuster go.
"I was deeply disappointed by the way the most recent Supreme Court nominee, Judge Garland, was treated by the Senate, but as Senator, I can only vote on the nominee that comes to the Senate floor," he wrote on Sunday. "However, I believe that we should keep the current 60-vote threshold for Supreme Court nominees."
[Screengrab via Donnelly's YouTube page]
Have a tip we should know? [email protected]