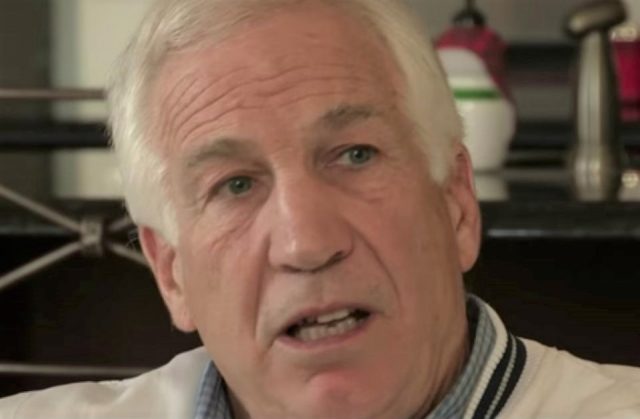 To the vast majority of people, both in the news media and not, the "Penn State Scandal" is extremely old news and as dead and decided as Harvey Weinstein's movie-making career. However, for a growing number of some of those still enthralled by the case, the truth is only now beginning to become clear. This as the dust finally beings to settle nearly six years after a massive firestorm, ignited by the shocking arrest of Jerry Sandusky, engulfed a city, a university, and several men of extremely high stature.
I have been often ridiculed by high-profile members of the media because I have never accepted the conventional narrative which they all so rapidly embraced back in November of 2011. While I hardly intended or anticipated doing so, I have somehow devoted most of the last five years of my life to figuring out what actually did, and did not happen in this saga. I have, on numerous occasions, including on the Today Show with Matt Lauer, declared that I know that I am right, but that I am also all-too-aware my fight for justice here is utterly doomed (Lauer, very politely, publicly declared my career over for taking a stance so dangerously contrary to the rest of the media herd).
While I am under no delusions that any widely accepted vindication is imminently heading my direction, there have been a couple of recent developments about which I am compelled to write. In any other high-profile case they would be bombshells which would create huge news. However, in this one, thanks to the entire media industrial complex being completely invested in what I refer to as a "fairytale," I am quite confident that, unless you closely follow my little Twitter feed, you haven't even heard about them.
Just a couple of days ago, a stunning email emerged (after just sitting for months, unnoticed, on Pennsylvania's website devoted to documents related to the various legal cases related to the scandal) which may put the essence of this case in a very different light. It is an exchange between the then lead Sandusky prosecutor, Jonelle Eshbach, and the only direct witness to ever testify, then Penn State assistant football coach Mike McQueary.
Here is the email (the red lines were added by the researcher who found it):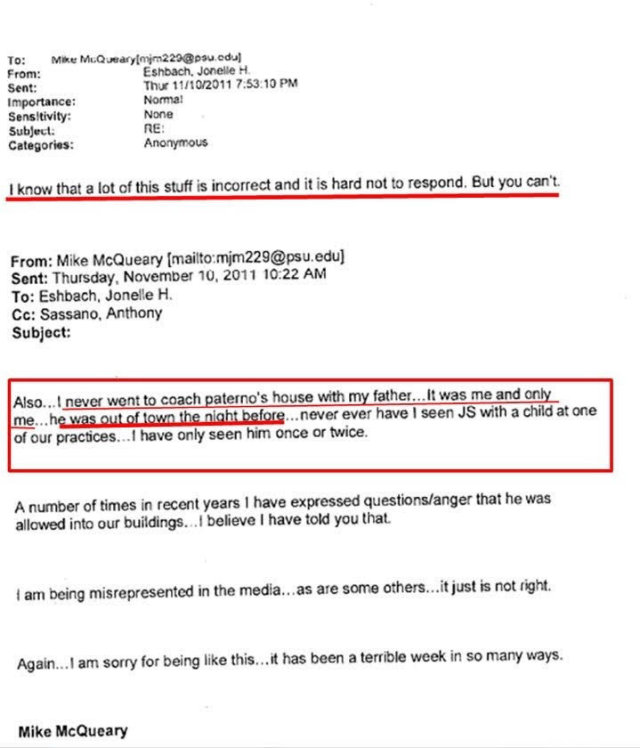 Even for those who don't know much about the case, this document is stunning. This is the day after legendary Penn State football coach Joe Paterno was fired based entirely on the media's round-the-clock reporting about a leaked 23-page grand jury presentment, and the prosecutor is admitting to Mike that there is a lot of false information out there but that, despite his desire to correct it, he needs to keep quiet.
Amazingly, this email was not provided in discovery to the defense teams of either Sandusky or former Penn State president Graham Spanier for their criminal trials. This alone should get people in the legal profession to at least wonder what the heck is really going on here, but there is much more in the email of direct evidentiary value.
Specifically, as McQueary lists his grievances regarding all the false reporting of his story, he makes a shocking reference to his meeting with Joe Paterno the morning after he allegedly saw Sandusky sexually assaulting a boy in the Penn State showers (it is important to point out that McQuearey has never, despite many attempts, definitively testified to what he thinks he saw in the "two or three" seconds he peered into the shower through the reflection in a bathroom mirror, and that the now adult male Penn State paid millions of dollars as the "victim" of this incident is on record, multiple times, as married Marine, saying that nothing bad happened).
In the email, McQueary tells Eshbach that, contrary to the reporting of Sara Ganim (who ended up winning a Pulitzer Prize for her work on this case for a local newspaper and is now at CNN), his father did NOT go with him to that meeting with Paterno. He then states, "He was out of town the night before."
This seemingly innocuous comment could very well dramatically alter nearly the entire record of what really went down here. You see, according to McQueary's later testimonies, he met late "the night before" with his father and Dr. Jonathon Dranov, for whom his dad worked. This urgent meeting, late on a Friday night (February 9th, 2001, though McQueary wrongly testified ten years later, multiple times, that it was March 1, 2002, before the prosecution finally acknowledged everyone involved had somehow gotten the wrong date, month, and year) in mid-winter has always been THE best, and perhaps only evidence, that what McQueary witnessed that night was something he thought at the time to be very significant.
As someone who has been long convinced, for a multitude of reasons (including Dr. Dranov's own testimony and the fact that the "victim" never testified at trial), that McQueary never saw, nor thought he saw– until investigators came to him ten years later and effectively told him Sandusky was pedophile–any sort of sex act, this late-night meeting has been literally the only "fact" that bothered me. However, based on this "new" email, it is now reasonable to conclude that this meeting likely never actually occurred that night.
Obviously, if McQueary's dad was "out of town the night before," then Mike could not possibly have met with him and his colleague Dr. Dranov. If the meeting took place later that weekend, as I now suspect, then there was no "emergency" and there is absolutely nothing in McQueary's behavior to suggest he witnessed anything more than Sandusky naked with a boy in a shower, which is understandably troubling, but a world away from the charge of "anal rape" which ten years later created the media firestorm which led to Paterno's firing and started a dramatic domino effect of injustice here.
Now, to be fair, it is theoretically possible that McQueary is somehow referring to Paterno being out of town "the night before" his meeting with the head coach, but that scenario has major problems. One is that Paterno was NOT out of town on that Friday. A second is that he WAS out of town the night AFTER the incident. Even if McQueary's writing is super weird in that email and he's referring to Paterno, it still seems to indicate that his meeting with Dr. Dranov might have been Sunday (when Paterno would be out of town "the night before") and the prosecution still has a major issue.
The email also brings greater scrutiny to why it is that the Dr. Dranov meeting was never mentioned in that grand jury presentment where the prosecution threw in literally everything it had in order to inflame the media and public. The first public mention of it doesn't come until McQueary testifies a month AFTER he writes this email and it comes after he is under enormous criticism for not having done anything but call his dad (why call your dad when he lives nearby, unless he is "out of town"?) the night of the episode.
Occam's Razor now strongly suggests that what really happened here was that, ten years later, no one remembered for sure when that meeting took place (again, they ALL got the YEAR wrong) and the prosecution decided that it was in everyone's interest for it to have occurred that night. Since everyone involved was okay with that, and the media never raised the issue of how/why this was left out of the presentment, there was never any strong reason to doubt this critical part of the narrative.
That is, until now.
Here is a radio interview John Ziegler did today further explaining this development.
Update: This column facilitated proof that Joe Paterno was out of town on the WRONG date to which McQueary was testifying at the time the email was written. If McQueary was somehow referring to Paterno and not his dad, it would mean he had incorrectly created the structure of his original story via Google searches & not his own memory.
John Ziegler hosts a weekly podcast focusing on news media issues and is a documentary filmmaker. You can follow him on Twitter at @ZigManFreud or email him at [email protected]
This is an opinion piece. The views expressed in this article are those of just the author.