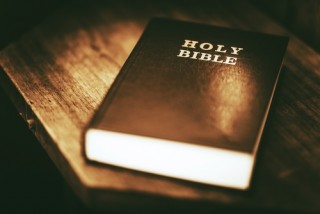 Tennessee lawmakers love the Bible so much, they decided to make things official. The State Senate passed a bill on Tuesday declaring it the state book.
Some opponents say it's a political statement against secularists.  Others say it actually diminishes the Bible's importance, by placing it alongside other state symbols like animals and plant life. Tennessee recently declared the .50-caliber sniper gun their official state rifle. Only one other state even has a state book. That, of course, is Massachusetts with Make Way for Ducklings, named the state's official children's book in 2003.
The Tennessee bill still needs approval from Republican Governor Bill Haslam. Tennessee Attorney General Herbert Slatery III, also Republican, says the bill violates separation of church and state.
But is that true? The First Amendment simply prohibits establishment of a religion. The Tennessee Constitution states "that no preference shall ever be given, by law, to any religious establishment or mode of worship." State Senator Steve Southerland says the bill is to support the Bible's historical and cultural significance, Fox News reported, and not an endorsement of a particular religion.
Hedy Weinberg, executive director of the ACLU of Tennessee, doesn't see it that way. She called the bill a "thinly veiled effort to promote one religion over other religions clearly violates both the United States and Tennessee Constitutions."  Weinberg said that the bill "marginalizes the tens of thousands of Tennesseans who choose to practice other religions or not to practice religion at all."
However, the bill, known as Senate Bill 1108, just says "The Holy Bible is hereby designated as the official state book." It does not say the New Testament. One could try to make the argument that if it refers to the Old Testament, a book significant to multiple religions, it would not actually be endorsing one in particular. Of course, a quick look at an Amazon search for The Holy Bible will show that exactly zero of the results (at least on the first two pages) are the Old Testament. Since the phrase "Holy Bible" clearly refers to the New Testament, naming it the state book indeed appears to be an endorsement of Christianity, unless you buy Southerland's historical significance argument.
Politicians in Mississippi and Louisiana also tried to give the Bible official status, but efforts in both states failed.
[h/t NY Daily News, image via Shutterstock]
Have a tip we should know? [email protected]