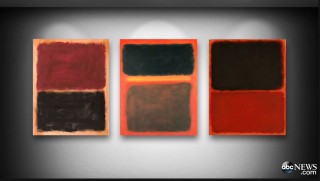 It sits in the corner of a courtroom, tucked behind a projector screen, roughed-up because of all the quick entrances and exits it makes in the hands of eager lawyers who sporadically mount it an easel that is a few feet from the jury seats. I am talking of a canvas, painted red and black in the style of the late Mark Rothko. For many years its name was "Untitled, 1956" and contemporary art-dwellers flocked to view it at Switzerland's Beyeler Foundation and more latterly at the home of its owners, Domenico and Eleanor de Sole. It was considered to be worth a masterpiece, worth north of $8 million. Now it is exposed as a fake – and considered valueless – except as crucial prop in a trial about phony art that many feel could be a seminal turning part for the unique and incomprehensible way in which the art world conducts its business with little documentation and a great many tall tales.
For the full story on the trial and its significance, read Vicky Ward's story in Town & Country.
Vicky Ward is a longtime investigative journalist who has published her stories in Vanity Fair, The New York Times, and Town & Country Magazine.
[Screenshot via ABC News]
Have a tip we should know? [email protected]