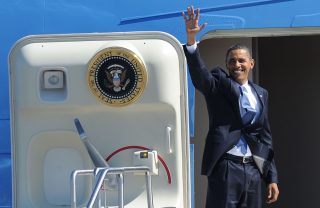 Newly released Secret Service and Air Force records contain information regarding various recent trips by President Barack Obama and First Lady Michelle Obama, showing just how much money American taxpayers spent for their travels.
The records were obtained by watchdog group Judicial Watch through Freedom of Information Act requests. They, and records previously obtained regarding past trips, show that the First Family's travel expenses total $96,938,882.51 over the course of Obama's presidency.
The trips in question are the President's trips to the Florida Everglades for Earth Day and to San Diego for political fundraising, as well as the First Lady's travels to Morocco, Spain, and Liberia with her daughters, her annual ski trip in Aspen, a family vacation to Martha's Vineyard, and also Hillary Clinton's flight on Air Force One with President Obama for a campaign event she had in North Carolina.
According to a response from the Air Force to a previous Judicial Watch request, flights on Air Force One cost $180,118 per hour. This is actually significantly less than it used to be. In 2013, the cost was $228,288, according to a report by the National Taxpayers Union Foundation, way up from the previous year's cost of $179,750.
Have a tip we should know? [email protected]