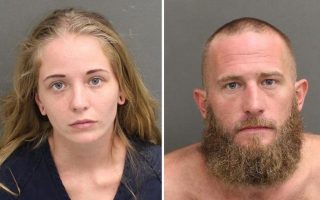 A Florida woman who works at a local strip club was arrested with her boyfriend after what police thought was her boss's suicide attempt turned out to be much more. James Mulrenin, manager of the club Thee Doll House in Orlando fell from his fifth floor balcony earlier this month. He died at a hospital soon after. Officers initially thought he had tried to kill himself, but when they investigated further, evidence pointed to an attack, The Orlando Sentinel reported.
According to court documents released on Wednesday, Mulrenin was found with a gunshot wound in his leg, and his apartment was covered in blood that went from his living room to the balcony. Police also found zip ties and duct tape that they believe were used on Mulrenin.
Surveillance video showed Mulrenin's employee at the club, Mandi May Jackson, and Jackson's boyfriend Scott Michael Love at the scene. Court records indicate that Jackson was spotted running from Mulrenin's building to a car one minute after a 911 call reported that he fell from the balcony. Video reportedly showed Love in Jackson's elevator and exiting on Mulrenin's floor.
Police also say the pair robbed Mulrenin, whose credit card was used at a Walmart two hours after the fall. They were arrested on December 19 and now face charges of felony murder, burglary, and fraud, while being held in Seminole County Jail without bail.
Have a tip we should know? [email protected]