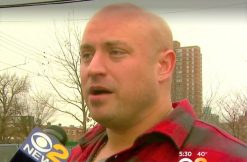 Steven Sampson, 41, got stabbed in the shoulder. So far, that's the only credible detail about his story, the New York Police Department says. The fire department EMT told authorities that a group of four men attacked him, and stole $2,500 worth of gifts from his car. It was quite the story. He said he put one guy in an armbar, and punched another, but the others used to the chaos to make off with his family's Christmas presents.
"'Hey, cracker, we're going to take your s—t.' Basically, that's what they said," he told CBS New York.
But the NYPD is disputing this story. The New York Daily News reports that Sampson was charged on Wednesday with making a false written statement and filing a false report. Police told the outlet that Sampson kept changing his story, and eventually recanted it under questioning.
One unnamed officer told The New York Post that "he was definitely stabbed," but they're not clear on how that happened.
His wife Michell says that's ridiculous.
"There's no false report," she told the Daily News. "My husband was stabbed and he was robbed. He was not charged with anything."
We're working to reach him for comment.
[Screengrab via CBS New York]
Have a tip we should know? [email protected]