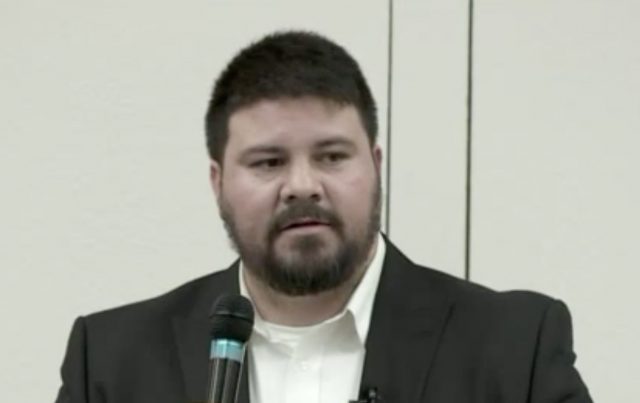 An Oklahoma state senator who also served as a state co-chair of the Donald Trump presidential campaign was charged with child prostitution and several related crimes after police say they found him smoking marijuana inside a motel room with a 16 or 17-year-old boy.
Ralph Shortey, a Republican from Oklahoma City, was reportedly discovered by a police officer inside a room at a Super 8 Motel on March 9.  According to a heavily redacted police report obtained by a local news station, the juvenile's father called police after observing his son enter a motel room with an older adult male just after midnight on March 9.  The father told the cop his son had a history of drug abuse and soliciting himself on Craigslist.
The officer wrote that he could smell a strong odor of marijuana coming from the room as he approached the door to conduct a welfare check.  The cop says at first Shortey attempted to say he was the only one in the room, but when he finally opened the door, the juvenile exited the room.  The officer said Shortey informed him that he was just in the room to hang out with a friend and allegedly admitted to bringing marijuana.
The officer then said he had a conversation with the juvenile who said he had known Shortey for approximately one year and that the two had exchanged drugs in the past.
However, the report does not seem to indicate the police found any marijuana in the room or in the possession of either Shortey or the juvenile.  Though, cops say they did find an open box of condoms in the juvenile's backpack.
The cop said he was then informed about the existence of a Kindle tablet used by the juvenile that contained text messages between him and a person the cops believe to be Shortey.
A review of the tablet device allegedly uncovered text messages, including a conversation with a person under the name "Jamie Tilley" that allegedly makes reference to meeting in the motel room.  The Tilley message chain also allegedly contained a message from Tilley that asks the juvenile if he might be interested in "sexual stuff."
Cops conducted an investigation into the text messages that allegedly took place between the juvenile and Shortey, who cops believe was using the "Tilley" alias. The Oklahoma state senate moved quickly to  suspend Shortey from his committee chairmanships and passed a resolution finding he committed "disorderly behavior."  Shortey is 35-years-old and married with two children.
On Thursday afternoon, Shortey was formally charged with engaging in child prostitution and several other related charges, according to the Tulsa World newspaper.  The state's Republican governor, Mary Fallin, has already called on Shortey to resign his seat in the senate immediately.
[image via screengrab]
Have a tip we should know? [email protected]