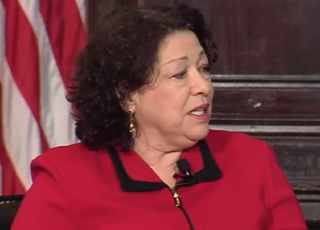 U.S. Supreme Court Justice Sonia Sotomayor spoke at University of Alaska Fairbanks on Sunday, and expressed her opinion on the politicization of the country. From the media, to the government, Sotomayor said people could learn a thing or two from the nation's highest court, Alaska Dispatch News reported.
Differences in legal arguments does not give one side a moral high ground, Sotomayor told the audience. She applied that philosophy both to people who appear before the Supreme Court and the Court itself. When parties argue before her, she recognizes that both have equal passion and belief in their cause. "No matter what decision I make, I'm going to hurt someone else," she said.
As far as her colleagues on the bench, she said that different points of view don't prevent them from doing their jobs or even getting along as friends. "We understand if we take our disagreements as personal attacks then we won't be able to function as a group." Sotomayor said that Congress could learn from their example.
Justice Sotomayor lamented that when it comes to politics, people seem to have trouble hearing opposing viewpoints. "Is anybody listening?" she asked, regarding the rhetoric of "talking heads" in the media. She contrasted this with her fellow justices, Ruth Bader Ginsburg and the late Antonin Scalia, who often held opposing views on cases, yet "they were the best of friends."
Regarding Scalia and his recent passing, Sotomayor addressed a question from the audience about the Senate's refusal to hold hearings for Merrick Garland, who President Barack Obama nominated to be Scalia's replacement back in March. She said the Court "functions best" with nine justices. Only eight justices currently sit on the Supreme Court, while the country awaits the confirmation of a new justice to take Scalia's vacant seat. As a result, a number of cases have already resulted in split decisions.
Have a tip we should know? [email protected]