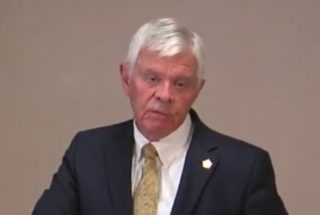 A wrongful death trial took a startling turn on Monday, when an attorney for the family of Elliott Williams questioned Tulsa, Oklahoma Sheriff Stanley Glanz. Williams died in a Tulsa jail in 2011, after allegedly being paralyzed on the floor of his cell and seeking help for days.
Dan Smolen, an attorney for the Williams family, questioned Glanz regarding other failings in the jail system and Sheriff's office, The Daily Beast reported. When confronted with accusations that he and other staff members referred to black jail employees as "negroid" and "negronoid," Glanz didn't deny it. He reportedly justified the language, saying that the FBI used the terminology in the 1960s or 70s.
Smolen is no stranger to the Tulsa jail's practices. He previously represented former workers who sued the jail for racial discrimination, resulting in approximately $1 million in settlements.
In 2006, Smolen found a Sheriff's office memo that listed a number of employees, marking their race next to their names, with 'W' for white and 'N' for black. Smolen reportedly confronted Glanz about this at a 2015 deposition. At the time, Glanz insisted that black employees would not be offended by the notation. As far as using the above-mentioned n-words, Glanz said at that deposition, "I don't see anything wrong with it."
This was just one more disgraceful revelation during the Williams family's wrongful death trial. Additional testimony and evidence revealed prior reports of the jail's medical staff's poor standards, including a Department of Homeland Security audit from weeks before Williams' death that noted a "prevailing attitude of indifference."
According to the Beast, Glanz resigned in 2015 after an unrelated indictment for abuse of office.
[Image via KJRH screengrab]
Have a tip we should know? [email protected]