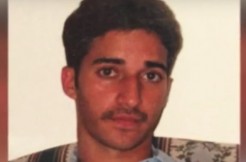 A convicted murderer, made famous by the podcast Serial, pushes for a retrial Wednesday. Adnan Syed, 35, says Maryland prosecutors used bad evidence when charging him in the 1999 disappearance and murder of Hae Min Lee, for which he was convicted.
The appeal zeroes in on possible alibis. His attorney, C. Justin Brown, insists "cell tower evidence used against him was unreliable and should have been excluded from trial." This detail is essential to his client's defense, Brown writes. That's true, since cell phone data apparently pinned Syed at the spot where Lee was buried.
Brown also wants the court to include a statement by Syed's then-schoolmate, Asia McClain. In an affidavit, she written she'd seen Syed at the school library at the time of Lee's disappearance.
Syed is best known as the season 1 subject of Serial, a popular podcast. There, host Sarah Koenig investigated him, and the people surrounding his 2000 conviction for the murder of classmate and ex-girlfriend Lee.
The show's popularity had a lot to do with how Koenig examined evidence that Syed was potentially wrongfully accused: allegations of incompetent defense at trial; possibly unreliable witnesses; and cops who might have bypassed other potential suspects.
Then again, Syed still might have done the deed. Koenig points out her many doubts about him, even during their phone interviews. It's that question—guilty or innocent—that drove a lot of show's popularity.
A post-conviction hearing is expected to start today, and last three days. Syed currently serves a life sentence plus 30 years.
[h/t USA Today]
[image via ABC screengrab]
Update — Feb. 3, 12:16 p.m. EST: Attorney Brown says Syed's former attorney, Cristina Gutierrez (who has passed way), botched his 1999 and 2000 trials. Justin Fenton, reporter for the Baltimore Sun, has been covering the post-conviction hearing:
Brown saying McClain not presented bc "wheels were coming off bus" for Guitierrez, who he said was once-great atty. Hence Dantes testimony

— Justin Fenton (@justin_fenton) February 3, 2016
Brown said re: cell phone evidence that Guitierrez either knew of & should've used, or state didn't disclose & committed "epic" violation

— Justin Fenton (@justin_fenton) February 3, 2016
Now Bill Kanwisher, a former atty w Guitierrez firm is on stand. He seems reluctant to be here, leaning forward w elbows on knees

— Justin Fenton (@justin_fenton) February 3, 2016
Kanwisher says Guitierrez was "legendary" but by time he was working for her, her practice was in shambles, she was hard to work for

— Justin Fenton (@justin_fenton) February 3, 2016
He says she often dumped work from her cases on him, sometimes at the last minute. Notes he's only here testifying bc subpoenaed

— Justin Fenton (@justin_fenton) February 3, 2016

–
>> Follow Alberto Luperon on Twitter (@Alberto Luperon)
Have a tip we should know? [email protected]