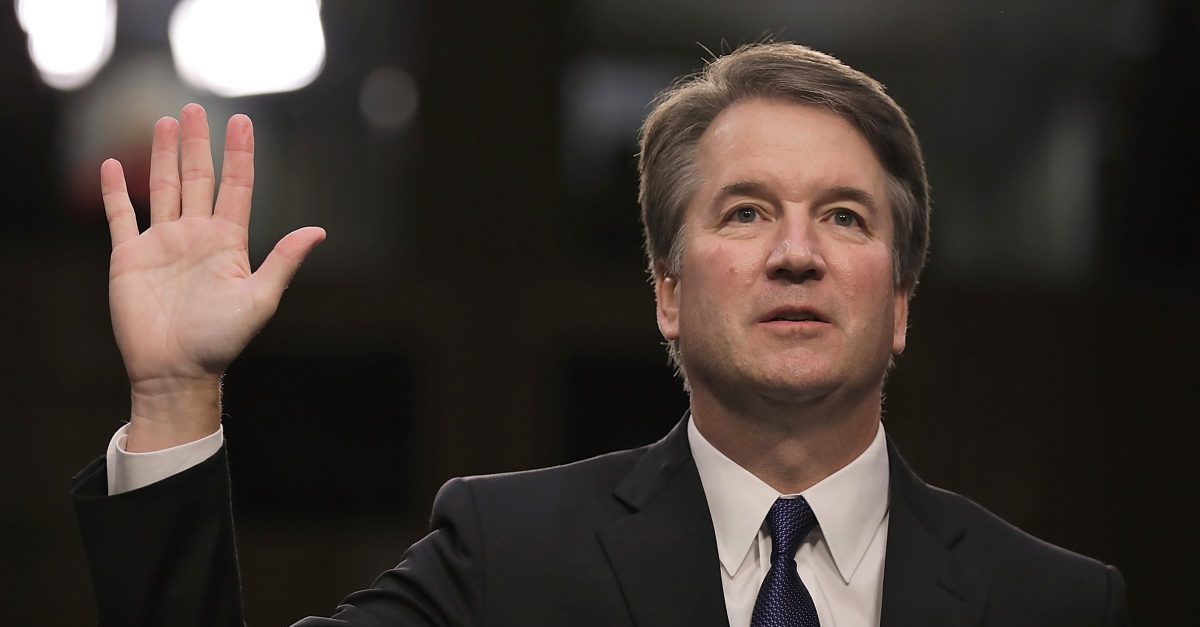 Senate Majority Leader Mitch McConnell (R-K.Y.) said Tuesday that the results of the FBI investigation into allegations made against Brett Kavanaugh will not be available to the public. Only U.S. senators will get to read what the FBI has to say at the end of the agreed upon one-week, limited scope investigation.
According to the Carl Hulse, Chief Washington Correspondent of The New York Times.
Sen McConnell says new FBI report on Judge Kavanaugh will be seen only by senators and won't be made publicly available.

— carl hulse (@hillhulse) October 2, 2018
USA Today's Eliza Collins also wrote down a related quote from McConnell.
.@senatemajldr: "We'll get an fbi report soon and it'll be available to each senator and only senators will be allowed to look at it."

— Eliza Collins (@elizacollins1) October 2, 2018
Here he is in a 30-second clip on CBS News saying that this is how FBI background checks are handled.
"That's the way these reports are always handled," he said.
Despite calls to release it to the public, McConnell says that the FBI report on the Kavanaugh investigation will follow protocol and only be shared with senators. Not the public. (via CBS) pic.twitter.com/2h2a5tKHPD

— Kyle Griffin (@kylegriffin1) October 2, 2018
NPR reported that McConnell expects for the Senate to vote on Kavanaugh this week and that senators will be able to review the FBI report on allegations against the judge.
Just in: Senate Majority Leader Mitch McConnell says he expects to receive an FBI report on allegations against Brett Kavanaugh "soon" and that report will be made available to all senators. McConnell expects to move to a vote this week.

— NPR (@NPR) October 2, 2018
During a speech, McConnell lamented the "tactics" of those choosing "a darker road" to bring down Kavanaugh. He said that he wished "this fight could have remained in the realm of normalcy."
Kavanaugh has been accused of sexual assault by Dr. Christine Blasey Ford and sexual misconduct by former Yale colleague Deborah Ramirez. Julie Swetnick also came foward with claims that Kavanaugh was seen at parties where gang rapes occurred.
Kavanaugh has categorically denied all of it.
Mitch McConnell: "I wish this fight could have remained in the realm of normalcy but when none of these tactics worked when Judge Kavanaugh demonstrated his widely acknowledged brilliance, open-mindedness and collegiality at his confirmation hearings, some chose a darker road." pic.twitter.com/CJyIDKyzZq

— The Hill (@thehill) October 2, 2018
He also accused Democrats of moving goalposts "every 5 minutes," saying political opponents won't be satisfied until Kavanaugh is voted down or withdraws.
"Democrats may be trying to move the goalpost every 5 minutes, but their goal has not moved an inch. They will not be satisfied unless they have brought down Judge Kavanaugh's nomination." –@senatemajldr

— GOP (@GOP) October 2, 2018
[Image via Drew Angerer/Getty Images]
Have a tip we should know? [email protected]