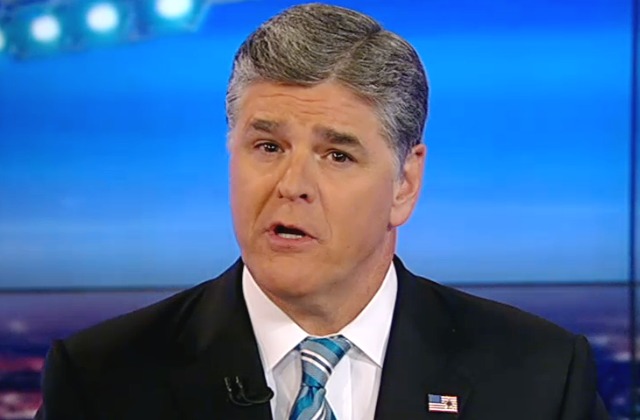 Just as the fallout surrounding Bill O'Reilly's sudden ouster from Fox News began to fade from the media spotlight, another woman is coming forward with new allegations against the network's next biggest star, Sean Hannity. Hannity was quick to fight back, though, stating that the claims of misconduct are "100%" false and pledges that he will be taking swift legal action against the accuser, who he called a "serial harasser."
Debbie Schlussel, a former Fox News guest and Sean Hannity guest, appeared on Today's Pat Campbell Show, a local radio show on Friday. She claimed that while she was with Hannity in Detroit, he repeatedly invited her to his hotel room. When she declined the invitation, she claims, he didn't have her back on his show. Schlussel did not give an exact date for when the alleged incident occurred but by Sunday evening, the allegations had already made their way around the internet, including being picked up by several mainstream media outlets. LawNewz.com has not been able to verify if the two ever met up in Detroit. Schlussel also told LawNewz.com in a subsequent interview that she doesn't believe what occurred amounts to sexual harassment, but she is standing by her description of the incident.
"He tried to get me to go back to the hotel after the show after he and his executive producer Bill Shine treated me horribly," she said on the radio program.
LISTEN TO SCHLUSSEL INTERVIEW HERE:
"I got a really weird feeling about the whole thing," she said. Schlussel, an attorney and political commentator, followed up her interview with the radio station with the following tweet.
Hannity also got mad at me when I briefly became a redhead and wasn't blonde and argued w me saying my pants size was 4, which was creepy https://t.co/GkAiaGslRf

— Debbie Schlussel (@DebbieSchlussel) April 21, 2017
Sean Hannity released a statement to LawNewz.com strongly denying the allegations:
"LET ME BE CLEAR THE COMMENTS ABOUT ME ON A RADIO SHOW THIS WEEK by this individual ARE 100% false and a complete fabrication.

This individual is a serial harasser who has been lying about me for well over a decade. The individual has a history of making provably false statements against me in an effort to slander, smear and besmirch my reputation.

The individual has not just slandered me over the years but many people who this individual disagrees with.

This individual desperately seeks attention by any means necessary, including making unfounded personal attacks and using indefensible and outrageous political rhetoric.

My patience with this individual is over. I have retained a team of some of the finest and toughest lawyers in the country who are now in the process of laying out the legal course of action we will be taking against this individual.

In this fiercely divided and vindictive political climate I will no longer allow slander and lies about me to go unchallenged, as I see a coordinated effort afoot to now silence those with conservative views. I will fight every single lie about me by all legal means available to me as an American."
The accuser has a history of making allegations against Hannity. Back in 2010, Schlussel, who Gawker claimed at the time was a "crazy birther blogger," wrote a blog post claiming that the "Freedom Alliance," a war veteran charity, which is supported by Hannity, was skimming donations, and was all a "huge scam."
According to a 2010 letter obtained by LawNewz.com, Thomas Kilgannon, the charity's founder and president, fired back in a note to donors: "the blog posting accuses our friend Sean Hannity of personally benefiting from Freedom Alliance. This is FALSE. Freedom Alliance has never provided planes, hotels, cars, limos, or anything else to Sean. Sean gets nothing from Freedom Alliance except our gratitude for his personal generosity and for all he has done to help the troops and our organization." Hannity has reportedly donated more than a million dollars to the charity over the last several years.
On Schlussel's blog, she has garnered a reputation for making sensational statements, including calling Robin Wiliams "selfish" for committing suicide. 
Update: Schlussel responded to this story, standing by what she said, but now claims what happened did not amount to sexual harassment. Read her response here.  We have removed references to sexual harassment based on Schlussel's statements.
Have a tip we should know? [email protected]
Rachel Stockman - President / On Air Host