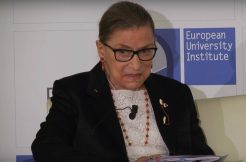 Supreme Court Justice Ruth Bader Ginsberg has no plans to quit. The topic came up in an NPR interview published Monday.
"I will retire when it's time," said the 83-year-old. "And when is it time? When I can't do the job full-steam."
It only sounds like a simple boast if you haven't read the news since February. The court has been in a kind of limbo since Ginsberg's friend, Antonin Scalia, passed away at the age 79.
Justices serve until death, retirement, or successful impeachment. Each vacancy inevitably leads to a political tug-of-war as Democrats and Republicans struggle over the president's nominee and the ideological makeup of the bench. For example, Scalia was infamous for his conservatism while Ginsberg is a liberal who got her start a Civil Rights lawyer.
President Obama has appointed federal appellate judge Merrick Garland to replace Scalia, but he still must be confirmed by a Senate. Though Garland is considered a judicial moderate, many Republican Senators say any hearings should wait until after the November general election. That's when voters will choose the new commander-in-chief. If Democratic candidate Hillary Clinton wins, Garland is likely to be immediately confirmed. If Republican candidate Donald Trump takes the victory, however, then the Senate may wait for him to choose another nominee.
–
Follow Alberto Luperon on Twitter (@Alberto Luperon)
Have a tip we should know? [email protected]