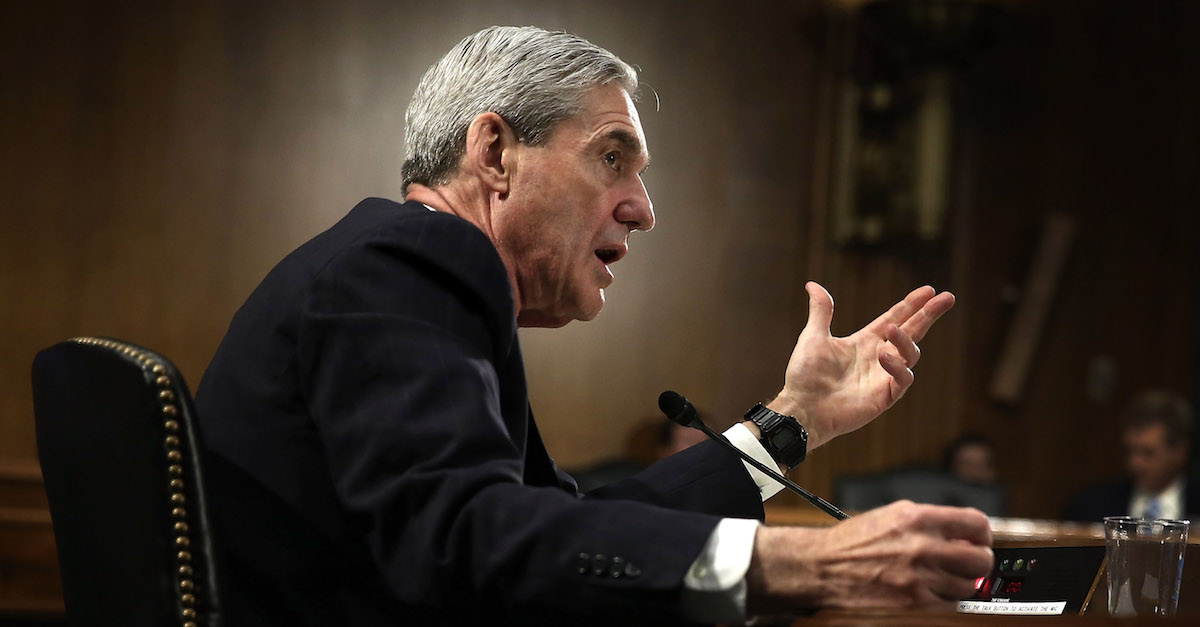 Special counsel Robert Mueller is playing on something of a hot streak at the moment.
On Thursday, the D.C. Circuit Court for the District of Columbia handed down an order denying an intervenor request recently filed by Concord Management and Consulting LLC.
Concord Management, of alleged Russian troll farm fame, last week attempted to intervene in the case of former Roger Stone aide Andrew Miller–presumably because Concord Management's attorneys believe Miller's case has some non-tangential bearing on their own. This attempt is the one that failed on Thursday.
First a bit of backstory. Miller was subpoenaed by Mueller in May of this year. Miller ignored that subpoena and Mueller moved to compel his appearance while also requesting that Miller be held in civil contempt. That's exactly what happened.
In between the filing of the original Mueller-Miller subpoena and the August contempt finding, however, Miller incorporated one of Concord Management's voluminous challenges to Mueller's authority into one of his own responses submitted before the court. More legal wrangling ensued between the various parties involved.
Miller and Concord Management filed separate appeals based on essentially the same–and sometimes exactly the same–legal arguments while Concord Management, in turn, moved to intervene in Miller's case largely on the basis of the cribbed language and apparent similarities between the two cases.
If that all sounds a bit convoluted and specious, well, a D.C. judge or two probably agrees with you.
Late Thursday afternoon, a two-judge panel on the D.C. Circuit Court of Appeals, featuring Thomas B. Griffith and David S. Tatel, shut down Concord Management's intervenor request.
Chock full of procedure-heavy legalese, this brief document doesn't contain any rhetorical fireworks or jabs. There's no indication this decision is anything more than a straightforward recitation of the obvious point that Concord Management was never really involved in Miller's case. The decision is a tidy dismissal of Concord Management's long-shot effort to find some hint of actual relevance between their own case and Miller's. The court wrote:
ORDERED that the motion for leave to intervene be denied. The movant has not demonstrated that it has standing, as it must in order to intervene. Specifically, movant has not shown that the injury it alleges will be redressed by a favorable decision in this case.
But it wasn't all sour grapes in the judges' decision. Instead of becoming a participant with skin in the game, Concord Management is now allowed to participate as an amicus curiae or "friend of the court." That is, Concord Management's attorneys can still file motions in the Miller case–which may or may not be considered by the court–due to their interest and/or potential expertise in some related matters bearing on the issues at hand.
The bone thrown isn't likely to function as much more than a consolation prize, though. As BuzzFeed News' legal editor Chris Geidner noted:
Both Concord and Miller have challenged Mueller's authority — Concord in its criminal case (one of the defendants in the Russian troll farm case brought by Mueller) and Miller in response to a grand jury subpoena. Both have lost their challenge at the district court level.
[image via Alex Wong/Getty Images]
Follow Colin Kalmbacher on Twitter: @colinkalmbacher
Have a tip we should know? [email protected]