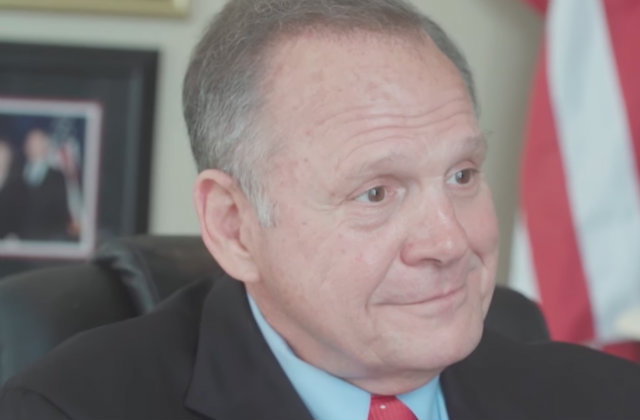 Alabama Republican Senate candidate Roy Moore is apparently still misrepresenting his income and assets, according to the findings of an investigation into the GOP member's personal finances.
In response, non-partisan public interest watchdog, the Campaign Legal Center ("CLC"), filed a letter with the Senate Ethics Committee yesterday afternoon amending a prior ethics complaint leveled against Moore for his alleged financial improprieties.
According to the amended complaint, Moore failed to disclose a promissory note of $540,000 made out to him by his own charity, the Foundation for Moral Law. The promissory note was apparently provided to Moore in lieu of certain payment obligations the foundation was unable to meet when Moore served as its president from 2007-2012.
And, though completely legal in and of itself, the promissory note is seemingly backed by a mortgage on a property Moore himself owns. The revelation of this unusual financial relationship opens Moore to charges of self-dealing. And the fact that Moore has failed to disclose the existence of said relationship invites an extra dose of scrutiny–possibly suggesting the appearance of something untoward.
In a statement provided to LawNewz regarding the amended complaint, the CLC notes:
The reason that Senate candidates fill out financial disclosure reports is to give voters and the public basic information about the sources and nature of their assets. Moore's failure to disclose a $540,000 promissory note for deferred compensation for part-time work for his charity misled the voters he hopes to represent—and violated Senate rules.
The complaint itself reads, in part:
Moore's financial disclosure report does not include any disclosure of the promissory note itself, which guarantees Moore $540,000 in deferred compensation, with the "entire principal balance . . . due in full and payable on demand," and which by its very terms "constitute[s] the full and complete agreement" between the parties.
This alleged failure to disclose a fairly massive asset is the latest in a string of allegations about Moore's apparent ethical mishaps.
On September 21, CLC filed a complaint with the IRS which claimed that the disgraced former judge and current candidate's above-mentioned charity–which he founded–had improperly spent organizational funds on behalf of his Senate candidacy.
On October 2, CLC filed its initial complaint with the Senate Ethics Committee, noting that Moore had failed to disclose up to $150,00 in income on a mandated federal disclosure report.
LawNewz reached out to Moore's campaign for comment on this story, but no response was forthcoming at the time of publication. This post will be updated if and when such a reply is received.
[image via screengrab]
Follow Colin Kalmbacher on Twitter: @colinkalmbacher
Have a tip we should know? [email protected]