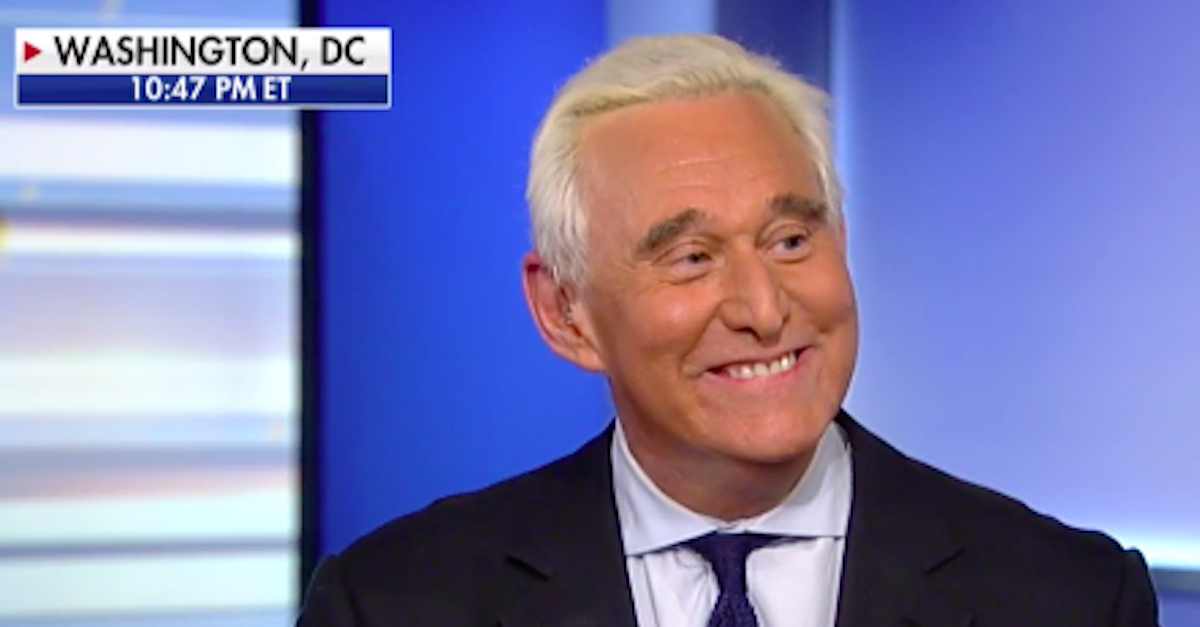 It seems the government believes Roger Stone, long-time friend and advisor of President Donald Trump, may have violated the gag order placed on him by U.S. District Judge Amy Berman Jackson. If so, Stone could be jailed pre-trial.
A Monday filing by special counsel Robert Mueller directed the court's attention to Stone's Instagram account where he recently "shared an image with the title 'who framed Roger Stone.'" The image was posted Instagram on Sunday and disappeared as Instagram stories do after 24 hours.
The judge is also taking issue with a book written by Stone, The Myth of Russian Collusion, which is slated for re-release and contains a new introduction. In the book, Stone refers to Mueller as "crooked." The book was initially titled The Making of the President 2016 when released in 2017.
Earlier on Monday, Stone's attorneys filed a redacted clarification with the court explaining that Stone's new introduction was authored in January of this year–well before Stone was slapped with the gag order in his ongoing criminal case.
"All of [redacted] was written prior to February 2019," Stone's attorneys insist. "The Publisher received the draft on January 14, 2019; edits were made and approved on January 15, 2019. To the best of Stone's knowledge, information, and belief, not a single word in the book was created after February 21, 2019."
Jackson gagged Stone via a minute order issued February 21.
"From this moment on, the defendant may not speak publicly about this case — period. No statements about the case on TV, radio, print reporters or internet. No posts on social media," she said.
Stone's Sunday post, therefore, could land him in serious trouble.
But it's not just social media that has Mueller's office upset. They apparently think the book itself is a problem.
"A preview of the defendant's book, including the updated Introduction referenced in the defendant's Motion to Clarify, is currently publicly available on Amazon.com and Google Books," Mueller's Monday filing points out.
Former federal prosecutor Peter Zeidenberg believes that Stone doesn't have much of an argument this go-round.
"I think it is a violation," Zeidenberg told Law&Crime. "The Instagram posting, directing the public to read his introduction, sure seems to violate both the letter and the spirit of the order."
After the redacted filing, Judge Jackson requested additional information from Stone's attorneys demanding to know why she wasn't alerted to the new book sooner.
Stone's attorneys gave it another go in a late Monday filing:
The completed interior of the New Edition was uploaded to the printer on January 17, 2019. The completed cover of the New Edition was uploaded to the printer on January 18th, 2019. Printed copies of the New Edition shipped from the printer on February 1st,2019. Copies of the New Edition were available at bookstores nationwide on or before the publication date of February 19th, 2019.

As just stated, the official publication date for the purposes of offering for sale, of the New Edition…was February 19th, 2019. Nevertheless, NDP Bookscan shows that copies of the New Edition had arrived at bookstores as early as the first week of February. Because there was no strict-on-sale date for retailers, retailers began selling the New Edition when they received it. As a result, by February 16, 2019 there had been cumulative sales to consumers of 96 copies.
Those 96 copies sold, Stone's attorneys argue, weren't implicated by Jackson's "forward-looking order" and "it did not occur to counsel that he should then…present issues regarding Mr. Stone's prior writings."
Even if that's true, the Instagram post making reference to the "framing" was posted after the gag order was in place.
The gag order states that prohibition on statements about the Mueller investigation includes "posts on Facebook, Twitter, Instagram, or any other form of social media." It also says Stone "may not comment publicly about the case indirectly by having statements made publicly on his behalf by surrogates, family members, spokespersons, representatives, or volunteers."
Law&Crime previously reported on Stone's possible flouting of the gag order by speaking to multiple media last week. Nothing much came of that brouhaha, but the piqued interest of both Judge Jackson and Team Mueller would suggest the longtime Trump aide's freedom is no sure thing this time. Jackson memorably reminded Stone that "This is not baseball" and "There will be no third chance."
Law&Crime reached out to Stone attorneys Robert C. Bushel, Bruce Rogow and Tara Campion for comment and clarification on this article, but no response was forthcoming at the time of publication.
[image via screengrab/Fox News]
Have a tip we should know? [email protected]