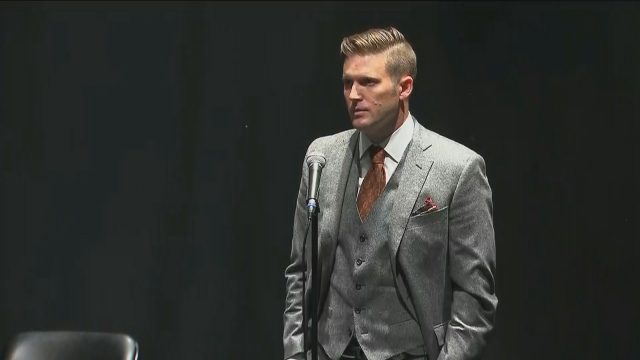 White nationalist Richard Spencer's campus tour organizer, Cameron Padgett, is suing the president of the University of Cincinnati, Neville Pinto, claiming that the school would not allow Spencer to rent space to speak on campus unless he paid a hefty security fee.
The attorney for Spencer and Padgett, Kyle Bristow, claims that requiring the nearly-$11,000 payment for a controversial speaker or one that prompts a reaction from students is discriminatory and unconstitutional. The lawsuit claims that "violent left-of-center political terrorists" are the reason the university's security costs are high for conservative or right-wing speakers.
Spencer's talk at the University was announced and approved in October, despite condemnation of hateful messages, but Pinto claimed in an October 2017 meeting that Spencer's request to speak "is provoking fear in our community especially for those who are direct targets of prejudice and racism."
Bristow claimed that the talk was scheduled for March, but the university claimed there was no contract in place yet.
Lawsuits are also pending against Ohio State and other universities for not allegedly not allowing Spencer to speak.
Spencer is an open member of the alt-right, as well as the president and creative director of the National Policy Institute, self-described as "dedicated to the heritage, identity, and future of people of European descent."
He gained notoriety in 2016 through his leadership in rallying the online alt-right community in support of the campaign of then-candidate, Donald Trump. Spencer was also a scheduled speaker in the August 2017 "Unite the Right" rally in Charlottesville, Virginia that led to the death of a counter-protester when man struck a crowd of protesters with his car.
[Image via WPLG screengrab]
Have a tip we should know? [email protected]