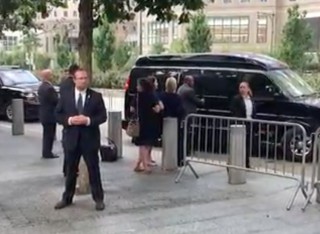 Hillary Clinton's handlers reportedly told Secret Service agents not to take the Democratic candidate to a hospital emergency room after she collapsed while leaving a 9/11 commemoration event in New York City.
The New York Post reports sources say Secret Service protocol called for Clinton to be taken a "state-designated Level I Trauma Center" after her medical episode on Sunday.
"But a campaign operative decided to change course to avoid treatment by doctors, nurses or other medical workers who could leak details to reporters," the report states.
Generally speaking, federal and state laws strictly prohibit the release of personal medical information without prior authorization.
Sources also told the newspaper Clinton was supposed to have a NYPD protective detail leading her motorcade, but Secret Service agents took off before the NYPD team could assemble.
The Clinton campaign maintains the candidate was simply "overheated and dehydrated" due to a previously undisclosed diagnosis of pneumonia on Friday.
Have a tip we should know? [email protected]