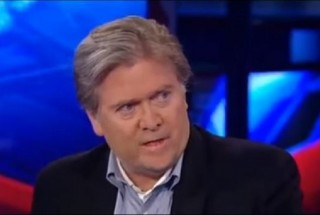 Donald Trump's campagin CEO, Stephen Bannon, is reportedly being investigated by Florida prosecutors over questions regarding his voter registration, according NBC News. The issue appears to be whether Bannon actually resides where his registration says he does.
Last week, Miami-Dade County officials requested to see Bannon's voting records. He had been registered in that county since 2014, but had apparently never voted there.
A story in The Guardian, however, said that the Miami home where Bannon was registered was empty and set to be torn down. Bannon was reportedly renting the home for his ex-wife, whom he divorced seven years ago. She moved out earlier this year. He had previously rented a different home for her until 2015, and he was registered there during that time. A source told The Guardian that Bannon didn't live there.
Bannon, executive chairman of Breitbart News, recently registered in Sarasota County, at a house that is recorded as owned by Breitbart writer Andy Badolato. A former Breitbart spokesperson told NBC News that Bannon "spent a lot of time in Florida."
Rosy Pastrana, executive assistant to the county's election supervisor, told NBC News that a person does not have to be at a location full time in order to maintain residence there. She said there was nothing that jumped out at her to suggest fraud on Bannon's part, but acknowledged that she did not know much about the investigation, other than that it was taking place.
Other election experts have also doubted that there is anything there, calling this a "non story."
LawNewz.com has reached out to the Trump campaign for comment, and will update this story upon their response.
[Screengrab via Fox News]
Have a tip we should know? [email protected]