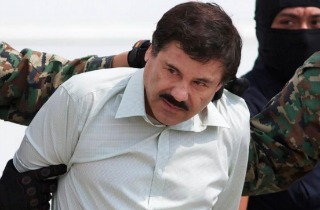 Mexican drug lord Joaquin "El Chapo" Guzman allegedly snuck into the United States not once but twice last year after making that brazen prison escape.  In an exclusive interview with The Guardian, El Chapo's daughter, Rosa Isela Guzman Ortiz, said that shortly after an interview with Sean Penn last year, her father dodged US border control agents and snuck into California. Just like that.
All of this, by the way, while the drug kingpin was considered the world's most wanted criminal. She also accused senior Mexican politicians of accepting donations from him even though they knew he had escaped from prison. The Guardian notes that the allegations can't be independently verified.
El Chapo's daughter said he traveled to California in late 2015 to visit family members and see her new home, a five-bedroom house which he bought for her and her four children.
"My dad deposited the money in a bank account with a lawyer and a while after he came to see the house, his house. He came twice," she told The Guardian. El Chapo has several ties to the United States including his third wife who is a U.S. citizen living in Southern California. Isela Guzman Ortiz did not specify how he crossed the border without being detected.
A Customs and Border Protection spokesperson told the Washington Post that the the agency "has no information that substantiates the news reports." However, of course, if El Chapo really did sneak across the border undetected, why would they?
Have a tip we should know? [email protected]
Rachel Stockman - President / On Air Host