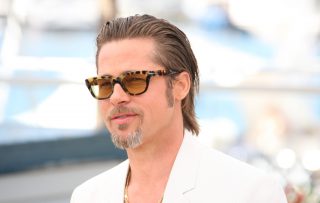 Not long after word got out that Angelina Jolie filed for divorce from Brad Pitt, TMZ reported that the Los Angeles Police Department and the LA County Department of Children and Family Services were investigating Pitt for child abuse. According to the gossip site, sources described an incident on a private plane where Pitt was intoxicated and physically abusive.
The TMZ report said that an anonymous caller reportedly notified authorities, leading to investigations by the LAPD and LA County DCFS. DCFS officials reportedly spoke to both Pitt and Jolie, and planned to speak speak to their children as part of the continuing investigation.
But LAPD Sgt. Barry Montgomery told The Hollywood Reporter that police are not investigating the actor, and that no child abuse allegations were even made to police. "We have no criminal investigation that we are actively pursuing," Sgt. Montgomery said. "We are not investigating any case, nor do we have any allegations against Mr. Pitt. We understand how rumors get spun up and hopefully we can put a few of them to rest. We have no investigation involving Mr. Pitt."
LawNewz.com reached out to the LA Department of Children and Family Services, but no one was available for comment.
According to People, Jolie filed for divorce the day after the alleged incident. Her attorney said in a statement at the time, "This decision was made for the health of the family."
A source connected to Pitt said to TMZ that the actor "takes the matter very seriously and says he did not commit any abuse of his children," and that, "it's unfortunate that people involved are continuing to present him in the worst possible light."
[Image via Featureflash Photo Agency/Shutterstock]
Have a tip we should know? [email protected]