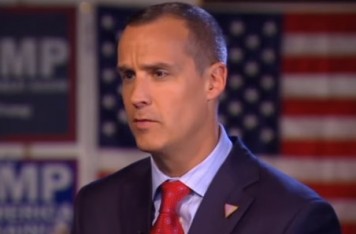 According to Politico, controversial Trump campaign manager Corey Lewandowski is fighting a losing battle to maintain his iron grip on power behind the scenes that he seized and held from the moment the campaign took off this summer.
The report, citing anonymous sources, states that Lewandowski's iron grip initially started to weaken when the primary contests started in February as some members of the Trump inner circle began to more vocally expressing concerns about Lewandowski's lack of national experience and temperament.
The first sign of trouble for Lewandowski was when Michael Glassner was promoted from (Trump Campaign) national political director to deputy (Trump) campaign manager.  An anonymous person close to the Trump campaign told Politico that it was an odd move for anyone to go from national director to a deputy position and that the move worried Corey " because it put someone in line as a successor in case he had to leave."
According to the article, as the campaign moved from one "high-octane" rally to the next,  often times with Lewandowksi right at Trump's side, it became almost impossible for other campaign officials to communicate directly with Trump.  Politico's anonymous  sources say they found it increasingly difficult to get anything though or around Corey, so they started relying on Trump's children, to the extent possible if they needed to get him something urgent — presumably something they thought Corey might not agree with.
Things came to a head on March 8, when former Breitbart reporter Michelle Fields alleged that Lewandowski grabbed her after a press conference.  A few weeks later, the Jupiter Police Department filed a simple battery charge against him over he incident.
While Trump continues to publicly back Lewandowski, after taking some time off the trail for the birth of his grandson, on March 28, it was reported by the New York Times that Trump had hired Paul Manafort as his convention manager, likely on the recommendation of Trump confidant Roger Stone.
According to Politico, Manafort will work out of Washington where he is still technically under Lewandowksi on the campaign hierarchy chart, however, he will be in charge of hiring his own team.
Politico made it clear that this shake up is, in part, "a natural outgrowth of campaign maturation."  However, it is likely necessary should the Trump campaign want to calm the nerves or even win over GOP party officials prior the convention in Cleveland, many of whom are lukewarm, at best, about a Trump candidacy.
"I'm not saying Corey's going to be fired or anything because I don't think he's going to be, at least not at this juncture," a person involved in Trump's campaign said to Politico. "But Mr. Trump's listening to other people now. The crew's expanding. The inner circle is not what it used to be."
Trump campaign spokeswoman Hope Hicks nor Lewandowski would comment to Politico for the article.
[h/t Politico; image via screengrab]
Have a tip we should know? [email protected]