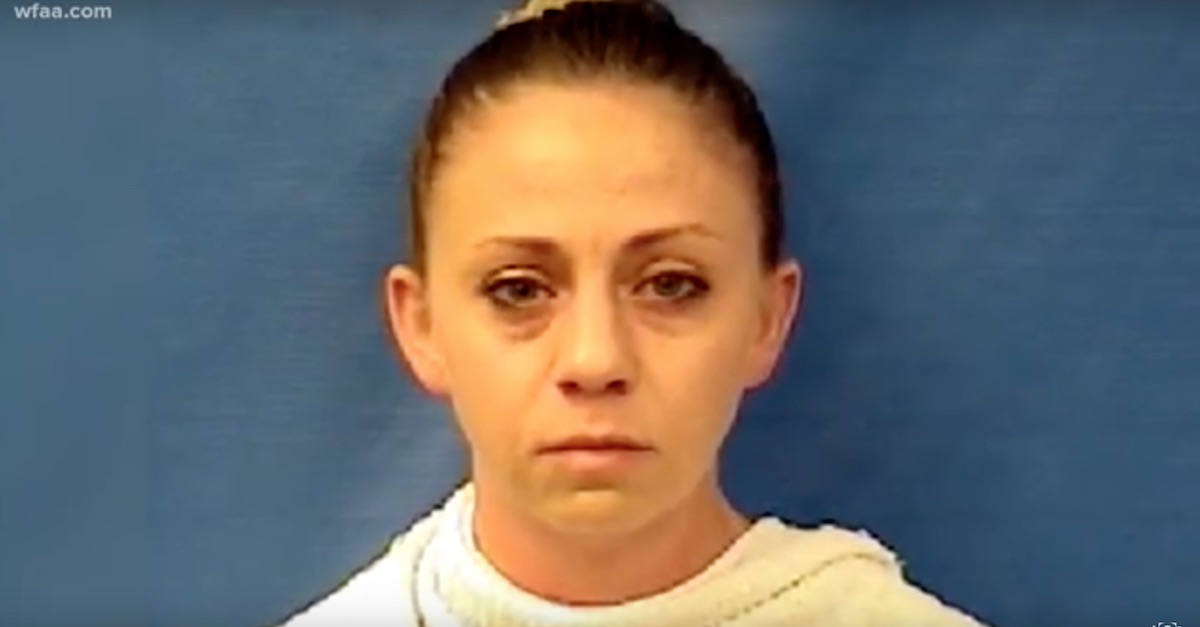 Family members of Amber Guyger, the Dallas police officer facing a manslaughter charge after killing an unarmed 26-year-old Botham Jean in his apartment last week, are responding to accusations on social media they are racists because of hand gestures and shirt choices spotted in photos.
While one aspect of this case the Texas Rangers Division may consider as it investigates is whether or not the shooting was motivated by race, since Guyger is white and Jean black. Social media has been doing some snooping of its own, with many diving into Guyger's past to see if there is any evidence to support that. There is, at this time, no such evidence.
Nonetheless, the relatives are speaking out because they have noticed the photos circulating online and the conversation about them.
Here are a couple of examples of the accusations.
Tariq Nasheed, who has more than 220,000 followers on Twitter, said that "the 'officer' who did the ambush murder on an innocent Black man in Dallas is allegedly named Amber Guyger. According to records, Guyger shot someone last year. Notice the photo of her below standing next to a man who appears to be flashing the white power hand signal."
That was retweeted more than 1,000 times.
The man who "appears to be flashing the white power hand signal" has been identified as Guyger's brother-in-law, Noe Garza. He told the Dallas Morning News that the photo you see below is him making a "69" with his hands, not a "white power" hand gesture. Why "69"? Because it was Guyger's father's 69th birthday.
"It's was his 69th birthday, so it was a 69. That's all it was," he said.
https://twitter.com/dogstar7tweets/status/1039676031991525376
"My last name is Garza. I'm a Mexican," he said. "I don't care about your nationality. I don't care about the color of your skin. We all bleed red."
"None of these are racist photos," he added. "I am not racist." Another photo that garnered attention online was one showing Guyger's mother wearing an "All Lives Matter" shirt. Family said she was given that as a gift after Micah Xavier Johnson shot and killed five officers in Dallas.
The Anti-Defamation League (ADL)  has responded that while Garza's hand gestures appeared to have a "partial resemblance" to some hate symbols, they "don't think there is any white supremacist intention here."
It's the second time recently that family members of a person accused of making a "white power" gesture have felt compelled to respond.
Zina Bash was seated behind Supreme Court candidate Brett Kavanaugh making a gesture some interpreted as a symbol of white supremacy. She was seen making what appeared to be an "OK" gesture with her hand and many on the internet accused her as Garza was accused here. Her husband rushed to her defense, calling this a "vicious conspiracy theory."
Mark Pitcavage, an ADL researcher, explained the origin of the symbol: "It began as a 4chan troll effort . . . but it has evolved into a symbol used by the alt right (and, occasionally, other white supremacists), the alt lite, and also various MAGA-type Trump supporters. Most still use it to troll (to 'own the libs')."
The Dallas Police Department publicly identified Guyger late Saturday, the end of a day in which police called for the community to trust her department, the city mayor said the Rangers would take over the probe, and an attorney for Jean's family suggested that the wait for an arrest showed that Guyger may have been given deferential treatment as a law enforcement officer.
"We not asking anyone to jump to any conclusions," the family's lawyer Lee Merritt said. "We're not asking for law enforcement to convict this person, or deny them their right to due process, but we're asking that they be treated as any other citizen–where there is evidence that they committed a crime–be treated, and that is for a warrant to be issued, and for an arrest be made."
[Image via Kaufman County Jail]
Have a tip we should know? [email protected]