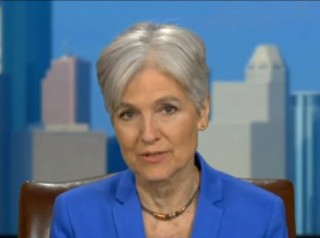 Presidential candidate Jill Stein went to a protest in North Dakota on Monday, demonstrating against the Dakota Access Pipeline, and may have gotten herself into some trouble with the law in the process.
According to a spokesperson for the Green Party candidate, fellow activists encouraged Stein to leave a message at the site of the demonstration, and Stein obliged by spray painting "I approve this message" on a bulldozer.
As of Tuesday evening, no case had been brought against Stein yet, but Morton County Sheriff Kyle Kirchmeier said in a statement that his office plans to pursue trespass and vandalism charges.
Update 9/7/16 4:19pm: According to Evan Rosenfeld of KPNX, arrest warrants have been issued for both Stein and her running mate, Ajamu Baraka. The charges are criminal trespass and mischief.
Charged with Criminal Trespass and Mischief for allegedly spray-painting bulldozer during ND pipeline protest. #12News

— Evan Rosenfeld (@Evan_Rosenfeld) September 7, 2016

[Image via screengrab]
Have a tip we should know? [email protected]