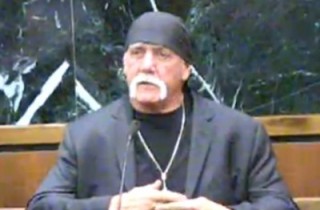 According to documents obtained by the New York Post, Hulk Hogan's sex tape partner Heather Cole admitted in 2014 that she knew all along that they were being filmed. The tape is the center of Hogan's trial against Gawker, who posted parts of it online. This completely contradicts what Cole said in a deposition that was shown in court on Wednesday. There, Cole said that she had no idea that she was being recorded, and that her then-husband, radio host Bubba "The Love Sponge" Clem pressured her into sex with the wrestler, whose real name is Terry Bollea.
The documents that revealed Cole's admission contained statements she made to Tampa police during an unrelated investigation. The police report indicated that Cole discussed the sex tape, saying that Clem "insisted on it being videoed." An officer's account in the report went on to say "I told Cole that in the videos it appears as though she is positioning [Hogan] for the camera. She said she did that because that is what Bubba wanted. Cole said Bubba could be very controlling." That last part at least falls in line with her claim in the testimony that Bubba pressured her into it.
Closing arguments for the Hogan and Gawker are taking place Friday morning. You can watch a live feed of the Hogan/Gawker trial here.
[h/t NY Post, image via screengrab]
Have a tip we should know? [email protected]