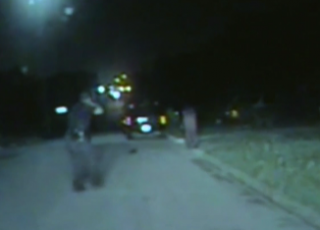 In an effort to show transparency, the Fort Worth Police Department released video that shows an officer shooting a suspect who was kneeling on the ground, CBSDFW.com reported. They released the video on Wednesday, shortly after the officer was indicted for aggravated assault for the incident that took place almost a year ago.
In the video, provided below, Officer Courtney Johnson approaches Craigory Adams. Johnson then shoots Adams, who collapses to the ground, but can be seen still moving. After the shot, Johnson rushed over to Adams, possibly checking on him.
The night of the shooting, police were investigating a call about a man with a knife who was allegedly breaking into houses. When officers responded, they found Adams outside his home, holding a barbecue fork. According to CBSDFW.com, Johnson ordered Adams to drop the 'knife,' and he did, dropping to a knee. Johnson then shot him in the arm, but he claims that his weapon fired accidentally, a result of a known problem with the model of shotgun he was using.
This version of the video was posted by Dallas-Fort Worth CBS's Dan Haggerty:
Dash video shows moment officer claims he accidentally shot man holding BBQ Fork in Fort Worth. @CBSDFW pic.twitter.com/pSSRkYqf96

— Dan Haggerty (@HaggertyCBS11) March 30, 2016
So was it an accident, or was it intentional? Johnson claimed the shooting was an accident, but Adams's mother, Jeanette, says it was racially motivated. She said in a civil lawsuit that she witnessed Johnson using racial slurs and shooting Craigory intentionally. Adams's family also revealed that Adams has bipolar disorder and was not on medication at the time of the incident. Adams himself claimed that the injury resulted in significant restriction of the use of his right arm, as well as depression and night terrors, according to the Star-Telegram.
Officer Johnson is currently on restricted duty.
[h/t CBSDFW.com, image via screengrab]
Have a tip we should know? [email protected]