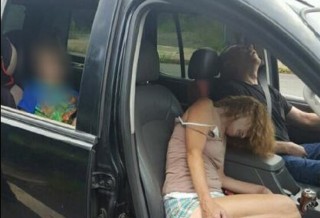 Police in East Liverpool, Ohio arrested James Lee Acord and Rhonda Pasek last week after they each suffered what was believed to be opiate overdoses while a small child was in the car with them. The city then posted graphic photographs of the scene on its official Facebook page to warn residents of the dangers of drugs.
An officer first noticed a car moving erratically, then coming to a stop. When the officer approached, he saw that the driver was bobbing his head and barely speaking coherently. According to a police affidavit, the driver, Acord, said he was taking Pasek to the hospital. Pasek was unconscious, and Acord passed out soon after. All the while, a 4-year-old boy, first identified as Pasek's son, and later as her grandson sat in the back seat.
The images stirred up strong reactions, with more than 5,000 comments by Monday afternoon. Some found the content too graphic for public consumption while others thought it was important to send a message. Many took offense to the child's face being shown, instead of blurring it as several media outlets have done (and we are doing). Still others felt that the boy's face told the whole story. "Here is why seeing the little boy's face is important," one commenter posted. "He does not look shocked or surprised. This means had seen his mom like this before. Possibly many times. That is why this is sad."
The City of East Liverpool anticipated the response they got, and felt it was worth it. They said in their post:
We are well aware that some may be offended by these images and for that we are truly sorry, but it is time that the non drug using public sees what we are now dealing with on a daily basis. The poison known as heroin has taken a strong grip on many communities not just ours, the difference is we are willing to fight this problem until it's gone and if that means we offend a few people along the way we are prepared to deal with that.
It is still unknown whether Acord and Pasek were on heroin at the time. A pink powder was recovered from Pasek's seat in the car, and it was sent to a lab for testing.
The situation was reported to Columbiana County Children's Services, who responded to assist and place the child. Acord pleaded no contest to operating a vehicle while intoxicated and endangering a child. He was sentenced to 360 days in jail, a $475 fine, a d three-year license suspension. Pasek pleaded not guilty to endangering a child, public intoxication, and a seatbelt violation, and bond was set at $150,000.
[Image via City of East Liverpool, Ohio]
Have a tip we should know? [email protected]