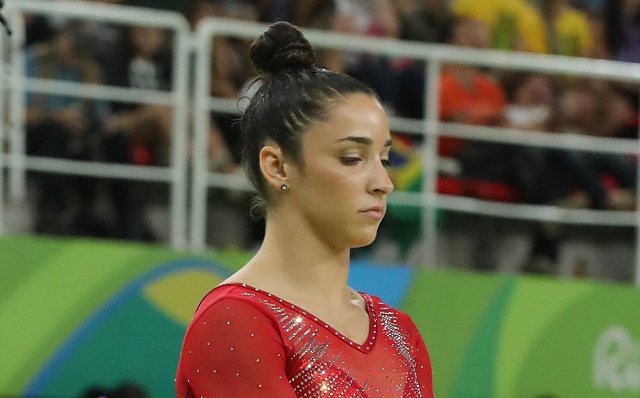 NEW YORK (AP) — Olympic gymnast Aly Raisman says she is among the young women abused by a former USA Gymnastics team doctor.
Raisman tells "60 Minutes" she was 15 when she was first treated by Dr. Larry Nassar, who spent more than two decades working with athletes at USA Gymnastics. He's now is in jail in Michigan awaiting sentencing after pleading guilty to possession of child pornography.
Raisman, the captain of the 2012 and 2016 Olympic gold-medal winning team, details the abuse in her book "Fierce," which will be released on Nov. 14.
Raisman is the latest gymnast to claim she was abused by Nassar. McKayla Maroney, who won two medals at the 2012 Games as Raisman's teammate, said last month she was molested for years by Nassar.
Nassar also is awaiting trial on separate criminal sexual conduct charges and has been sued by more than 125 women alleging abuse. Nassar has pleaded not guilty to the assault charges, and the dozens of civil suits filed in Michigan are currently in mediation.
Raisman's interview with "60 Minutes" will air on Sunday night.
The 23-year-old Raisman has been highly critical of USA Gymnastics in recent months, calling for leadership change at the top of the organization while becoming a strong advocate for athlete's rights. She's also spoken up for victims who have been reluctant to come forward publicly.
"These girls, they should be comfortable going to USA Gymnastics and saying: 'I need help, I want therapy. I need this,'" Raisman said during an interview in August at the 2017 national championships in Anaheim, California.
USA Gymnastics launched an independent review of its policies in the wake of the allegations against Nassar and reporting by the Indianapolis Star that highlighted chronic mishandling of abuse allegations against coaches and staff at some of its more than 3,500 clubs across the country.
In June, the federation adopted 70 recommendations offered by Deborah Daniels, a former federal prosecutor who oversaw the review. The new guidelines require member gyms to go to authorities immediately, with Daniels suggesting USA Gymnastics consider withholding membership from clubs that decline to do so.
The organization also named Toby Stark, a child welfare advocate, as its director of Safe Sport. Part of Stark's mandate is educating members on rules, educational programs and reporting.
USA Gymnastics announced Tuesday it hired Kerry Perry as the organization's new president and CEO.
The organization said in a statement to "60 Minutes" it is "very sorry that any athlete has been harmed … we want to work with Aly and all interested athletes to keep athletes safe."
[Image via Shutterstock]
Have a tip we should know? [email protected]