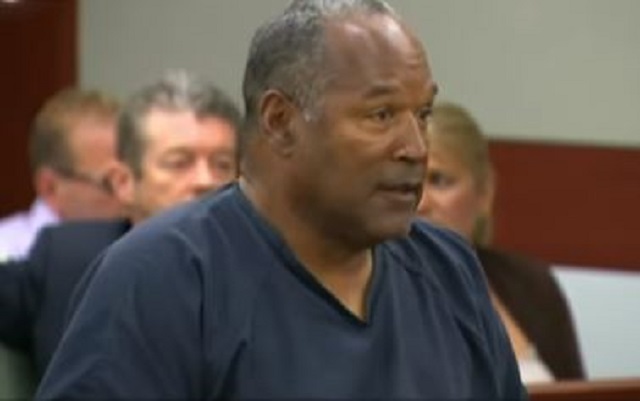 Update: The Public Information Officer for the Nevada Department of Corrections has told Law&Crime that The Daily Mail's report that O.J. Simpson received a disciplinary write-up for masturbating in his cell is inaccurate. "It's total fake news. There is no truth to it," the PIO told us. This goes along with Law&Crime's reporting earlier today, which included a statement from NDOC that no one in their department would have given such information, and that you technically can't face disciplinary action just for masturbating. The headline on this article has been updated accordingly.
---
O.J. Simpson is a model inmate and his parole is all but certain, right? Not so fast, according to a new report from The Daily Mail. Sources told the UK publication that just last month, the former football great was caught masturbating in his cell by a female corrections officer.
"OJ is facing a disciplinary hearing after being written up for masturbating in his prison cell," the source to the tabloid contends. "While it's not the most serious charge to be written up for in prison, it's serious enough that any potential parole date maybe be delayed or his parole denied all together." The source said that it could pose a problem the the parole hearing is taking place before a disciplinary hearing. This is probably because Simpson won't have an opportunity to respond to the allegation before he goes before the parole board.
A spokesperson for the Nevada Department of Corrections told LawNewz.com, "It is against NDOC policy to release inmate disciplinary history to the public. It is also against policy to release inaccurate information.  No official from our department would have released the information in question."
This appears to call the validity of the report into question, and the spokesperson also said that if a person did masturbate in their cell, it wouldn't even necessarily qualify as a violation. It's not against the rules to masturbate, but it could be considered a disciplinary violation if it was viewed to be sexual harassment. For instance, if someone did masturbate in his cell, and it was believed that it was intentionally done in front of a female officer, that could be an issue.
O.J.'s parole hearing will take place Thursday at 1:00 pm ET/10:00 PT, and will be streaming live on the LawNewz Network.
Have a tip we should know? [email protected]