Podcast: Play in new window | Download
Subscribe: RSS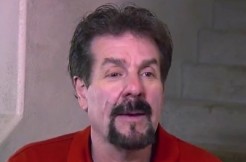 A prison guard says he got chummy with O.J. Simpson, who is doing pretty well at Lovelock Correctional Center in Nevada.
"O.J. Simpson is not suffering in prison," Jeffrey Felix told Good Morning America in a Tuesday report. "He's eating well. He's exercising well." The Juice even has access to a flat screen TV.
Felix retired from being a security guard in November, and he's writing a book about his alleged friendship with the accused murderer called Guarding The Juice: How O.J. Simpson Became My Prison BFF.
Before we keep going, we have to mention: It isn't clear if Felix is lying about what he has a say about Simpson, though the Nevada Department of Corrections confirmed to Good Morning America that he did work at Lovelock. A lawyer told ABC News that Simpson called him an exaggerator at best, and liar at worst.
So of course Felix has a story that alleges Simpson to be a killer. The former football star was acquitted in 1995 for the murders of his wife Nicole Brown and her friend Ron Goldman.
"O.J. told me one time, only two people alive know who committed the Brentwood murders. Him and AL Cowlings. Al Cowlings was the one who drove the white Bronco." Plus Cowlings, another former football player, was Simpson's best friend. "When O.J. was washing his hands and looked in the mirror, I just said 'Juice, you just solved the Brentwood murders. You're looking at the murderer right in the mirror. And he just kind of gave me a glare. He gave me kind of a dirty look. And then he kind of smiled afterwards. He kind of shrugged it off a little bit."
Felix also claimed O.J. sneered at the report of a knife found at his former estate. "If the knife is rusted, I can't be busted." the former football player said, evoking his attorney, the late Johnnie Cochran.
Simpson is in prison on a 2008 conviction for kidnapping and armed robbery. He's up for parole in 2017.
–
Follow Alberto Luperon on Twitter (@Alberto Luperon)
Have a tip we should know? [email protected]