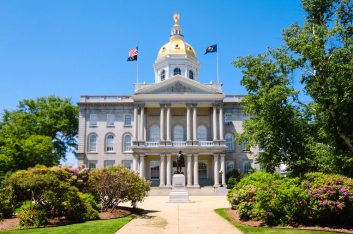 A piece of proposed legislation in New Hampshire was reportedly introduced with the intention of protecting against wrongful convictions, but opponents are saying it will protect pedophiles and sexual predators.
According to local news reports, lawmakers held a hearing on Tuesday on a proposed bill that was designed to protect against wrongful convictions in sexual assault cases.  The bill requires victims of sexual assault to corroborate their allegations if the accused has no prior convictions.  However, the bill does provide a definition of corroboration.
The bill was introduced in the aftermath of the conviction of Foad Afshar, a New Hampshire psychotherapist who a jury found guilty of molesting an underage client during an appointment. Afshar claims he was wrongfully convicted.
Opponents of the bill appeared at the hearing and denounced the proposal.  The harshest criticism appears to have come from a police sergeant from a department in Concord, NH.
"It's really nothing short of the nation's first pedophile protection act," Sgt. Sean Ford told lawmakers.
The bill's sponsor, Rep. William Marsh, and other supporters of the proposal believe it is necessary to enable doctors, teachers and others who work with children to perform their work without fear of wrongful accusations.
"If the person charged is innocent, they will have little ability to defend themselves, as the only testimony is that of a young child who may not be able to provide a reliable story," Marsh said.
Opponents, including prosecutors and police, generally oppose the change because they believe it will make it more difficult to obtain convictions and cause already reluctant victims to come forward.
[image via shutterstock]
Have a tip we should know? [email protected]