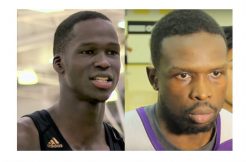 On Saturday, the NBA announced that they are seeking clarification on President Donald Trump's immigration ban.
"We have reached out to the State Department and are in the process of gathering information to understand how this executive order would apply to players in our league who are from one of the impacted countries," spokesperson Mike Bass said in a statement. "The NBA is a global league and we are proud to attract the very best players from around the world."
The executive order, issued Friday, restricts travel for citizens of seven Muslim-majority nations for 90 days: Syria, Iran, Iraq, Libya, Somalia, Yemen, and Sudan. That last one is important for the NBA because they often recruit from that region. As their "staff report" pointed out on Saturday, the Milwaukee Bucks' Thon Maker and the LA Lakers' Luol Deng were born there. Sort of. They're now technically from South Sudan, which achieved independence in 2011 (it isn't on the list). But the league wants clarification anyway.
According to an SB Nation report, Deng lives in the U.S., though he has British citizenship. Maker's family moved to Australia when he was five, and he has citizenship there. ESPN says that neither player has had traveling problems in the wake of the EO.
Two Iraqi nationals detained at New York's JFK Airport sued the government on Saturday. They said they'd already been approved to enter the U.S. A federal judge agreed, issuing a partial stay for anyone on American soil or in transit.
[Screengrab credits: Maker (left) via NBA; Deng via Lakers Nation]
Have a tip we should know? [email protected]