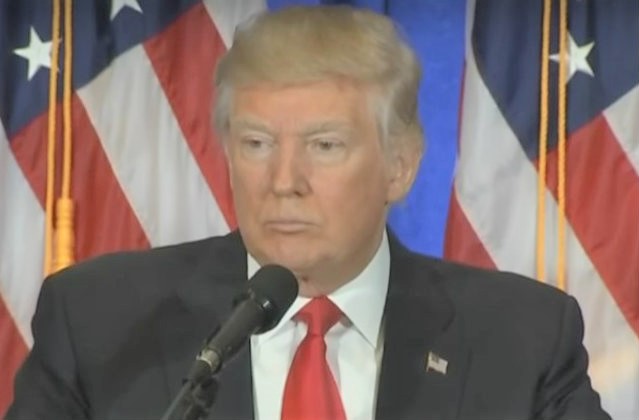 The most popular demand on the White House petitions page is this: President Donald Trump must release his tax returns, with the information to prove he's complying with the Emoluments Clause. Posted on Friday, it already has 199,119 signatures to qualify for an official response. It only needed 100,000 by February 19.
The issue of Trump's tax returns was a running controversy during the campaign. Multiple outlets examined the allegation that the then-candidate was misrepresenting his wealth. Throughout the election, he refused to release the documents, saying that he was under audit. A June report from The Daily Beast, however, said that two tax appeals in the 1990s revealed that he didn't pay income taxes in 1984. The New York Times risked breaking the law by publishing parts of his 1995 return in October. That document showed that he declared a $916 million loss, which he could plausibly have used to write-off taxes for years.
"Given what he does it could be that Mr. Trump is able to write off a great deal of what others might consider personal living expenses as business expenses, offsetting his income," Lester Weingarten, an accountant with with high income clients, told LawNewz.com in a September report. "The losses are most likely legitimate, however, the optics are not good. Hence he is not going to release the returns. Audits have nothing to do with this; the optics are just not good."
There's also the matter of the Emoluments Clause. The Constitution says that Presidents can't take any "any present, emolument, office, or title, of any kind whatever, from any king, prince, or foreign state" unless Congress gives the okay. Critics, including two former White House attorneys, say he's violating the rule because foreign officials will be staying at his hotels.
"These people are wrong," Trump attorney Sheri Dillion said in a January press conference. "This is not what the Constitution says. Paying for a hotel is not a gift or present and has nothing to do with an office. It is not an Emolument."
Other petitions on the White House website include calls for the President to fully divest or put his business assets in a blind trust; for the president to resign; reverse a ban on people owning fully automatic weapons; investigate former Secretary of State Hillary Clinton for possible crimes; and for farmers to be allowed to grow hemp. Petitions for Obama were cleared after the current administration took over.
Rachel Stockman contributed to this report.
Have a tip we should know? [email protected]