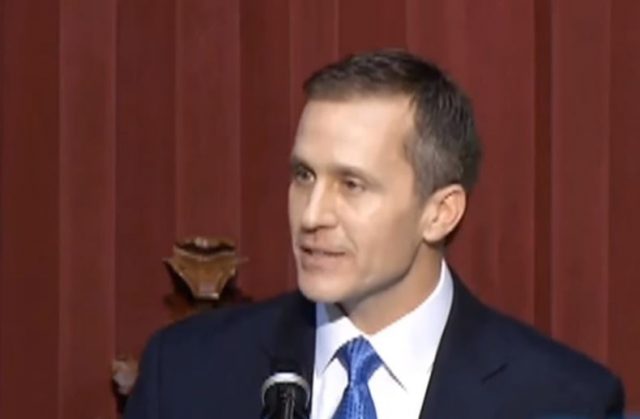 A local news report this week featured allegations that Missouri Governer Eric Greitens once had an affair with a married woman, and tried to blackmail her to keep it under wraps. Now, Greitens is under investigation for this and allegations that he slapped the woman. The report led to Greitens admitting the affair, but denying any criminal activity.
Local CBS affiliate KMOV first reported the alleged blackmail after speaking with the woman's ex-husband, who said that the affair took place in 2015 when he was still married to her. He provided a recording of a conversation where the woman is reportedly detailing a sexual encounter with Greitens, where he allegedly took a photograph of her and said if she ever mentioned his name, the picture would be everywhere.
"He took a picture of my wife naked as blackmail," the man told KMOV. "There is no worse person."
He and his wife split up the following year.
The man, who is remaining anonymous, said he originally preferred to keep quiet, but decided to speak out after media and law enforcement recently started contacting him about it.
"Something happened, churned this, and had people hounding me, even leaving a voicemail on my daughter's phone – when that happened, everything changed," he said.
The man's attorney, Albert Watkins, said that Greitens became violent with the woman after she told her husband about it, CBS News reported.
"When she admitted that she'd had sexual relations with her husband during a period of reconciliation," Watkins said, "the governor slapped her."
The report led to Greitens and his wife issuing a joint statement acknowledging that the governor did have an extramarital affair.
Joint Statement from Sheena and I pic.twitter.com/t3DT6V0Gba

— Eric Greitens (@EricGreitens) January 11, 2018
Through his attorney, Greitens denied blackmailing the woman or hitting her.
Greitens' lawyer James Bennett said in a statement that the story came out years after the affair because it was a political attack. He said in a statement:
We have been asked repeatedly by reputable news outlets why we believe this nearly three-year-old news story is coming out now. The latest reporting has finally disclosed that the reporting was being driven by a "source" who is the former Democrat state party chairman and who apparently has not spoken to the person in question. This goes a long way to explaining what is going on – this is a political hit piece.
Roy Temple, the former state Democratic party chair, denied this, saying, "If my goal was to have inflicted political harm on the governor, I would have brought this information public before the election."
[Image via KCTV screengrab]
Have a tip we should know? [email protected]