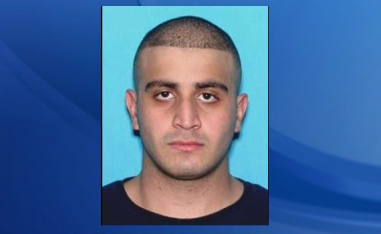 Orlando terrorist Omar Mateen was shot eight times from a distance, according to the autopsy report released late Friday by the Orange County Medical Examiner's Office.
The Orlando Sentinel reports autopsy records show Mateen was struck with bullets in the head, chest, abdomen, calf and feet. Mateen was killed in a shootout with police after a lengthy standoff at the Pulse nightclub on the morning of June 12. All eight bullets appear to have entered Mateen's body while he was facing police, according to the report.
Toxicology tests reportedly show Mateen had no alcohol or recreational drugs in his system at the time of his death. Earlier this month some reports indicated his body did show signs of steroid abuse, but it is unclear whether he had steroids in his system. The Daily Beast reports his urine did not show an abnormal level of testosterone. Whereas, WFTV News 9 says toxicology reports indicate Mateen had an increased level of creatine in his system. The medical examiner report apparently does not specify the cause of the increased creatine levels, however.
In addition to Mateen's autopsy report, the medical examiner also released reports for 13 of Mateen's victims. A majority of the victims reportedly appear to have been shot multiple times. The remaining autopsy reports of the victims will be released between next Monday and Wednesday.
Mateen shot and killed 49 people on June 12 in the deadliest mass shooting in modern U.S. history.
Have a tip we should know? [email protected]